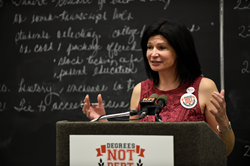 The priorities President Trump outlined in his budget are reckless and wrong for students and working families. --NEA President Lily Eskelsen García
WASHINGTON (PRWEB) May 18, 2017
Reports by the Washington Post show the Trump administration plans to cut $10.6 billion from federal education initiatives. The following statement can be attributed to NEA President Lily Eskelsen García:
"This budget once again illustrates why the American people have no confidence in Donald Trump or Betsy DeVos when it comes to education. They just don't get it. The priorities President Trump outlined in his budget are reckless and wrong for students and working families. If enacted, the Trump budget will crush the dreams of students, deprive millions of opportunities, and make it harder for students to access higher education.
"Members of Congress need to listen to their constituents who do not want to slash public schools in order to spend millions of dollars on private schools. There is a responsibility to provide great public schools for every student in America. We believe improving public schools requires more money, not less, and public money should only be used to help public schools. We urge Congress to reject the Trump-DeVos budget proposal and fight for opportunity for all students."
Follow us on twitter at @NEAmedia and @Lily_NEA
# # #
The National Education Association is the nation's largest professional organization, representing more than 3 million elementary and secondary teachers, higher education faculty, education support professionals, school administrators, retired educators and students preparing to become teachers. Learn more at http://www.nea.org.