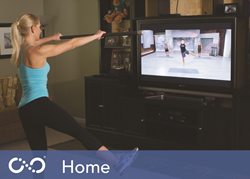 DETROIT, MI (PRWEB) May 22, 2017
What good is a new piece of fitness equipment if you run out of ideas for using it? ActivMotion Bar's new 60-day IGNITE™ program provides all the tools for a professional level, at-home functional fitness plan. IGNITE provides the home user with an ActivMotion Bar and access to their 60-day functional program of online videos. This includes 15 workouts ranging from ten to 30 minutes each, training calendar, nutrition tips and a quick start guide. ActivMotion Bars are filled with rolling steel ball bearings that shift gently during movements, producing an unstable and challenging stimulus that promotes enhanced core and total body strength, increased balance, and improved flexibility. The IGNITE workouts are filled with the bends, twists, arcs and paddle movements that were shown to activate muscles up to 173% more than static fitness tools. Prices range from $119.99 to $139.99. In addition to the IGNITE 60-day functional program, ActivMotion Bar also offers a free app for mobile devices with even more short workouts for the home user. And their free monthly newsletter includes a short video with three new moves to try each week. More information may be found at http://www.activmotionbar.com.
The rolling steel weight technology inside the hollow ActivMotion Bars has been embraced by top gyms, trainers, physical therapy practices and professional sports teams. Developed by fitness expert Derek Mikulski, C.S.C.S., The American Council on Exercise, Functional Aging Institute, IDEA Health & Fitness Association, National Academy of Sports Medicine, National Council for Certified Personal Trainers, Pilates Method Alliance and Titleist Performance Institute all offer ActivMotion Bar training to their expert members. While the ActivMotion Bars may look like standard weighted bars, the secret is the rolling steel weights inside the hollow bars. Because the rolling weights create "active resistance," the muscles, especially those of the core, have to work harder to stabilize the entire body. See more here: https://activmotionbar.cinevee.com/ignite-60-day-home-training-program?autostart=1
When deciding to buy a new fitness tool, it's important to go with what works. Experts using ActivMotion Bars with their clients include Gunnar Peterson, Leslee Bender, Tony Horton, Danny Musico, Pete McCall, M.S., Chuck Wolf, M.S., et al. The Mayo Clinic uses the bars in their physical therapy department. They are used by professional athletes on the P.G.A. Tour, in the N.F.L., M.L.B. and N.H.L. Whether the bars are used in the gym or the home, the results are profound.
No other fitness tool offers:

Increased muscle activation by up to 173% more than static fitness tools as proven by a University of Michigan research study: https://activmotionbar.com/wp-content/uploads/2014/04/HPIL_ActivMotion_Report_01-15-2015.pdf
Real time diagnostic feedback. Not sure which side is weaker? Each repitition offers the chance to see and correct imbalances immediately
Cardio, strength and flexibility work for general fitness, Pilates, yoga, sport specific training, and physical and occupational therapy
Accelarated weight loss. More muscle activation equals more calories burned
ActivMotion Bars come in 4 1/2, six, eight, 10, 15, and 18-pound bars. The lightest bar is four feet long. All others are five feet long. For those already owning ActivMotion Bars, the IGNITE workouts may be purchased separately. It costs $24.99 to rent all 15 digital workouts and $59.99 to download and own them all.
ActivMotion Bars are the invention of Derek Mikulski, CSCS. A native of Detroit, Michigan, Mikulski holds a Bachelor of Science degree in health education and promotion from Central Michigan University. He also has general and specialized fitness training certifications from N.A.S.M., N.S.C.A. and N.P.T.I. and is a Certified Strength and Conditioning Specialist (C.S.C.S.) through the N.S.C.A. He turned to fitness in high school to address his own weight struggles. The ActivMotion Bar company is based in Detroit, MI. Follow them on Facebook, Google+, Instagram, Twitter and YouTube.