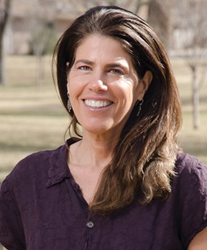 Our healing philosophies and experiential offerings are built for anyone seeking a deeper exploration and understanding of their lives. -Michael Schroeder, Lead Counselor, LMFT
Santa Fe, New Mexico (PRWEB) May 18, 2017
Santa Fe's only destination spa, Sunrise Springs Spa Resort, announced today that it will now offer day visitors and locals access to their wellness practitioners, Medical Director, Sally Fisher, MD, and Lead Counselor Michael Schroeder, LMFT. Dr. Fisher focuses on integrative, holistic, preventive and nutritional medicine while Schroeder focuses on individual and couples' counseling. Both experts offer on-site, one-on-one sessions to help guests discover optimal health.
Guests meet for a personal, confidential consultation with Dr. Fisher to discuss a holistic approach to health concerns or wellness goals. In this session, Dr. Fisher's compassionate approach to creating a sustainable plan for living well can include a range of concerns including brain health, digestive health, weight, nutrition and supplements, sleep, stress and cortisol issues, female or male health, autoimmunity and cancer. For lodging guests, Dr. Fisher teaches a variety of classes at Sunrise, covering topics such as nutrition, stress and relaxation, gut health, ancient rhythms (sleep, seasons, sunlight and darkness), and how history, evolution and botany have all played important roles in our use of food as medicine.
A 70-acre oasis centered around natural cold spring-fed ponds and surrounded by towering cottonwood trees and extensive gardens, Sunrise sets the stage for guests to quickly grasp an improved sense of well-being just by spending time outdoors, walking the property, bathed in sunshine and away from their digital devices.
"When guests arrive, they say they feel better almost instantly," said Fisher. "When people realize they have the capacity to shift their experience more easily than they expected, they become inspired in our sessions to reach the health goals and objectives they seek."
At the center of Sunrise Springs is a Medicine Wheel, which represents the harmonious balance between the mental, emotional, spiritual and physical aspects of well-being. Here Michael Schroeder begins a session with questions which lead to insights about a guest's present life. By creating this awareness, guests better understand their relationship with themselves and their connection with others.
Schroeder's confidential one-on-one sessions are solution-focused, combining art, myth, mindfulness and elements of Zen Buddhism to address topics such as stress and anxiety, esteem, intimacy, relationship wellness and parenting.
"Our healing philosophies and experiential offerings are built for anyone seeking a deeper exploration and understanding of their lives," said Schroeder.
COSTS
Sessions with Dr. Fisher:

For a brief discussion about your health, an introductory session is $79 for 25 minutes
For a focused discussion about health issues or wellness goals, $159 for 50 minutes and $249 for 80 minutes
For complex or longstanding concerns, Sunrise recommends a 1 hour 50 minute session for $329
Dr. Fisher can provide receipts that guests can submit to insurance companies as claims, however, Sunrise does not accept insurance to cover costs
Phone or Skype sessions are available for follow up and ongoing consultation at the above rates
Sessions with Michael Schroeder:

For a general discussion about issues or goals, $119 for 50 minutes
For a more in-depth discussion, or couples' session, $179 for 80 minutes
Dr. Sally Fisher and Michael Schroeder lead an experienced team of wellness professionals with offerings such as expressive arts and cooking classes, mindfulness meditation, yoga and fitness and horticulture as well as therapeutic activities with Silkie chickens and Labrador puppies in training to be service dogs. Additionally, locals and day visitors can access a menu of services available at the Sunrise Springs Spa including massage, body work, skin care, and private pools in the Ojitos outdoor soaking experience. Guests are also welcome to dine on farm-fresh cuisine seven days a week for lunch, dinner and Sunday Brunch at the Blue Heron Restaurant, helmed by Executive Chef Rocky Durham.
Sunrise Springs Spa Resort welcomes guests 18 years and older.
For more information on Sunrise Springs Spa Resort, visit sunrisesprings.com.
FOR MEDIA INQUIRIES:
Jennifer Hobson-Hinsley
505 603 8643
jennifer(at)jlhmedia(dot)com
###
ABOUT SALLY FISHER, MD: Dr. Fisher began her professional career by interning at the North Shore University Hospital/New York University School of Medicine. Subsequently, she completed her residency at Mt. Sinai/New York University School of Medicine in Preventative, Occupational and Environmental Medicine. She also participated in a fellowship program in holistic Medicine at Columbia University School of Medicine. More recently, Dr. Fisher worked as an integrative medicine/preventive medicine clinic physician at the University of New Mexico Center for Life. Dr. Fisher also has a private practice in Albuquerque offering integrative, preventive and nutritional medicine. Dr. Fisher received her B.A. in Psychology from Yale University summa cum laude. She then earned her M.D. at the University of New Mexico, where she received the Faculty Award for Outstanding Senior. Dr. Fisher earned her M.S. in Community Medicine at Mt. Sinai/New York University School of Medicine. Dr. Fisher is board certified by the American Board of Preventive Medicine, the American Board of Integrative and Holistic Medicine and the American Board of Physician Nutrition Specialists. Dr. Fisher is also a clinical assistant professor at the University of New Mexico.
ABOUT MICHAEL SCHROEDER, LMFT: Schroeder received undergraduate degrees in Psychology and Printmaking from the University of California Santa Cruz and has strived to maintain the connection between art and psychology in his career and personal life. Michael studied graphic and furniture design at Parsons School of Design in NYC and trained as a yoga instructor at New York's Integral Yoga. For many years, Michael worked as a fine artist specializing in printmaking, resin casting and woodwork with gallery representation in New York City and Santa Fe. Art led him back to psychology, particularly depth-related modalities and the work of Carl Jung, MD. Schroeder received his Master's Degree from Pacifica Graduate Institute, graduating summa cum laude. He has worked extensively with couples and kids. His psychotherapy practice is solution-focused, combining art, myth, mindfulness and elements of Zen Buddhism to help individuals and couples evolve to greater self-knowledge. Schroeder is a licensed psychotherapist (LMFT) in California and New Mexico.
About Sunrise Springs Spa Resort
The only destination spa in enchanting Santa Fe, N.M., Sunrise Springs Spa Resort, is a tranquil natural springs sanctuary that has been a source of rejuvenation for centuries, weaving ancient wisdom and healing traditions with modern wellness. At the heart of the resort's 70 acres is a sacred Medicine Wheel surrounded by 20 spacious casitas and 32 garden-view guest rooms; the new Ojitos, open-air soaking experience; a spa; greenhouse; yoga, fitness and expressive arts studios; puppy studio and chicken coop; and restaurant serving nourishing farm-fresh cuisine. A passionate team of credentialed wellness professionals guide guests to discover their unique path to creating harmony amongst the four aspects of wellbeing: mental, emotional, physical and spiritual. All-inclusive offerings range from the one-night Refresh + Recharge package to multi-day Girls' Getaways, Couples' R+R, Wellness Exploration and Immerse + Thrive experiences. Guests can also visit the nearby historic sister property, Ojo Caliente Mineral Springs Resort & Spa just north of Santa Fe. Sunrise Springs is an Ojo Spa Resort.
242 Los Pinos Road, Santa Fe, NM 87507 | 505.780.8145 | sunrisesprings.com | @sunrisespringsnm