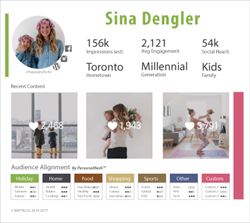 Millennial Moms are hotter than Hamilton tickets for influencer campaigns!
Austin, Texas (PRWEB) May 22, 2017
Named a world top 50 innovator by Unilever/Foundry, influencer marketing provider MATTR is helping major brands find the "right" influencers in campaigns this summer.
Our babies are growing up (and having babies)! Millennial Moms are hotter than Hamilton tickets for influencer campaigns. And because they're savvy about such things, there are a lot of them out there. Better choose wisely. With influencer marketing taking off faster than Chris Pratt shed weight for Guardians of the Galaxy, the choices can quickly cause brand managers to give in and have that glass of wine now. So what makes the "right" influencer? Take a peek at these amazing millennial moms--but first, read what makes them so impactful. It may just ensure a home run!
Gotta be Authentic
This seems clear-cut but it's not. If a product relies on brand loyalty, it may be surprising at how expensive it is to get a non-compete from an influencer. And if the brand manager blind-picked-and-clicked through an influencer marketplace it would be impossible to monitor even if a non-compete were promised.
Now, of course brands need more than authenticity. They need their posts to be something to be proud enough of to call your own.
Quality over Quantity
Let's add another wrinkle into the ask: Beautiful content. And oh yeah - they need to be FTC compliant for the brand's industry and country. Luckily, gorgeous images are available from that device we used to talk into. But the really exceptional content creators are skilled at composing the shot. Last, insist on reviewing that post before it goes out for quality, compliance, and content. And remember this: Give guidance; not a script!
But not so fast--there is one last bit of criteria, which could mean the success or failure of the campaign--even with authentic and quality content.
Audience
What's really needed is a consumer who loved the influencer's post who'll actually buy the brand's product. Achieving alignment between the audience and the brand is especially effective at weeding out the aspirational consumers. So dig into the audience demographics and psychographics - their interests and buying attitudes.