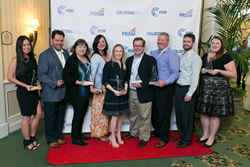 "The PRISM conference was established to create a unique forum for collaboration—addressing the most pressing challenges and opportunities facing our industry," stated Chris Aronson, CEO of EDR.
Shelton, Conn. (PRWEB) May 18, 2017
EDR, the leader in property due diligence and risk management technology and information, hosted its second annual PRISM conference, held May 1-3, 2017 at the Ballantyne Hotel in Charlotte, NC. The conference brought together over 150 leaders from all corners of the real estate diligence ecosystem.
"The PRISM conference was established to create a unique forum for collaboration—addressing the most pressing challenges and opportunities facing our industry," stated Chris Aronson, CEO of EDR. "The PRISM Award program recognizes organizations and individuals who are paving the way for the future."
The 2017 award winners are:
Hall of Fame— Georgina Dannatt, Bank of the West
Courage in Leadership—Don Kellar, Fulcrum Resources Environmental
Industry Influencer—John T. Rybak, BB&T Bank
Developing Leader—Emily Currie, AEI Consultants
On the Move—The Lotis Engineering Group
Technology Innovation, Lending—Farmers & Merchants Bank of Long Beach
Technology Innovation, Consulting–Terracon
Community Service—Tetra Tech
Outstanding Project—SCS Engineers
James Haberlen, Managing Director, Lender Services, EDR and host of this year's ceremony noted, "EDR is honored to recognize the contributions of our long-time industry colleagues as well as the next generation of leaders."
This year's finale was the induction of Georgina Dannatt to the Industry Hall of Fame, presented to her by last year's winner, Julie Kilgore of Wasatch Environmental. A strong and effective voice, Dannatt has served as an educator and spokesperson advocating for quality property investigations. Said Dannatt in her acceptance speech, "For over 20 years, the nexus of environmental assessments and the business of managing risk has fascinated me, fueling my passion for this work." Kilgore noted about her colleague, "Georgina has been a critical industry leader in advancing not only quality environmental due diligence, but meaningful environmental due diligence. Her tireless efforts over two decades have helped shape how we all approach the work we do."
For his development of the Environmental Vendor Management Program and BB&T's Annual Vendor Roundtable, John T. Rybak was recognized with the industry influencer award. Noted Rybak, "To be honored in front of your peers, and nominated for a leadership award by the very team that you build, is both humbling and affirmation that you must be doing something worthwhile."
A new award for 2017, Emily Currie of AEI Consultants earned the Developing Leader recognition. Currie said, "AEI has given me the opportunity to excel, and more importantly, provided me the guidance, staff and resources to create premium products in a great work environment." AEI president, Holly Neber, said of Currie, "Emily is an inspiration to work with and I am sure this is only the first award of many in the years to come."
In response to receiving the Courage in Leadership award, Don Kellar noted, "Integrity, perseverance, and loyalty are traits that were instilled in me a long time ago, and I believe this has been the root of my personal and business success stories." In addition to leading a 50-partner team as CEO, Kellar also regularly gives back to groups like Green Up Our Schools and the Wounded Warrior Project.
The On the Move Award, which recognizes a small firm or institution that has demonstrated significant growth, was bestowed upon The Lotis Engineering Group for its emergence in the telecom industry. According to company president, Dave Robinson, "Lotis' success is due to our team's willingness to never say no to a new project, continuously expanding our capabilities and market reach."
Tetra Tech received the Community Service award in recognition of its efforts to advance STEM education. Their enrichment programs and book donations reached nearly 6,000 students world-wide. This year the Technology Innovation award was presented in two categories: Lender Risk Management and Consulting. Farmers & Merchants Bank of Long Beach was recognized in part for the implementation of a bank-wide system to streamline the collateral underwriting/risk management process. Terracon Consulting was awarded in this category for the second year in a row, this year for the creation of a mobile app that facilitates field data collection. On behalf of his firm, John Sallman remarked, "We are fortunate to have an incredibly dynamic team who enjoy rising to the challenge of making our processes better each day."
Also added to the PRISM Award program this year was the Outstanding Project Award. John Tabella, SCS's National Expert for Environmental Due Diligence, said, "The COMM22 project in San Diego exemplifies our turn-key approach with respect to brownfield redevelopment, and the affordable housing outcome is tremendously rewarding."
About PRISM Awards
PRISM nominations were reviewed and judged by a third party consultant, the Zweig Group, a firm with an established history of running esteemed awards programs for the architecture, engineering and environmental consulting industries. Nominations for the 2018 PRISM awards will open in late 2017 to any professional, firm or lending institution participating in the property due diligence space. Learn more about EDR's PRISM conference and award winners here.
About EDR
EDR serves the entire real estate ecosystem delivering workflow technology and data. For over 25 years, EDR's goal has been to offer tools and reports that make the work of environmental due diligence professionals more efficient, effective and enjoyable. Its database contains over 3.1 billion historic records, including the most comprehensive repository of environmental and land use information in the United States. EDR also conducts market research and shares strategic intelligence through a variety of online channels and in-person events. Headquartered in Shelton, Connecticut. EDR has regional office located throughout the country. The company is wholly owned by the Daily Mail and General Trust, plc (DMGT).