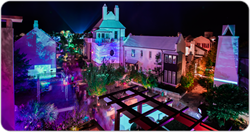 This digital art festival is the perfect showcase for Christie projectors and the perfect tool for artists to unleash their creativity.
CYPRESS, California (PRWEB) May 19, 2017
Christie® is partnering with Digital Graffiti 2017, a projection art festival held on May 19 to 21, 2017 at Alys Beach, Florida. Now in its 10th year, the three-day one-of-a-kind projection art and architecture festival showcases artists from around the world as they display original digital art upon the iconic stark-white walls of Alys Beach. Industry leading Christie technology - including Christie Boxer, Christie M Series, and Christie Captiva ultra short throw projectors, along with Christie Pandoras Box media servers to manage the content - power the festival and competition, wherein a panel of art and industry experts determines Best of Show, Curator's Choice and Special Recognition awards.
"We're excited to partner with Christie as a sponsor for the innovative and dynamic Digital Graffiti event to bring artists' creations to vibrant life with light using the canvas of Alys Beach," said Kelli Siler, Alys Beach Director of Events. "The juried Digital Graffiti festival gives digital artists the opportunity to explore how design, technology and architecture can intertwine with Christie projector solutions to create entirely new art forms. Alys Beach opens its doors, courtyards and pedestrian paths to ground-breaking artists who fuse these components to transform our entire town into a living work of art."
"This digital art festival is the perfect showcase for Christie projectors and the perfect tool for artists to unleash their creativity," said Kathryn Cress, vice president, Global & Corporate Marketing, Christie. "We're proud to partner with Digital Graffiti to enable artists to showcase innovative and dynamic creations. Christie projectors deliver brightness, exceptional image quality, versatility and ease of use for a wide variety of customers who rely on unparalleled visual experiences."
The judging panel includes Roy C. Anthony, Research & Innovation at Christie. Additionally, Christie is sponsoring award-winning Berlin-based artist Robert Seidel whose background is well established in experimental film, facade projection and video installation. His projections, installations and experimental films have been shown in museums like Royal Museum of Fine Arts Antwerp and Nabi Art Center Seoul, among others, as well as numerous festivals, galleries, magazines, books and TV programs worldwide.
Each year the Digital Graffiti festival attracts digital artists to connect with technology and architecture to create unexpected and wondrous experiences. Competing for top honors and prizes, artists' digital submissions are received from around the world and this year includes artists from Australia, Austria, Germany, and the United Kingdom in addition to the United States.
For more information about Digital Graffiti 2017, please visit http://www.digitalgraffiti.com
About Alys Beach
Offering an unrivaled sense of escape, Alys Beach is an emerging community nestled along Northwest Florida's Scenic Highway 30A. Drawing inspiration from Bermuda and Antigua, Guatemala, Alys Beach's stark white walls and private courtyard homes create a harmonious, urban environment characterized by calmness and simplicity. When complete, a short walk through town will take one from the gorgeous white sand along the Gulf coast, through a thriving town center filled with a variety of shops and restaurants, along pathways lined with neighborhood parks, pools, and event spaces, culminating on a 20-acre nature preserve to the north with trails and boardwalks winding through cypress wetlands. For more information, please visit alysbeach.com.
About Christie
Christie Digital Systems USA, Inc. is a global visual and audio technologies company and a wholly-owned subsidiary of Ushio Inc., Japan (JP:6925). Consistently setting the standards by being the first to market some of the world's most advanced projectors, complete system displays, and cinema audio solutions; Christie is recognized as one of the most innovative visual technology companies in the world. From retail displays to Hollywood, mission critical command centers to classrooms and training simulators, Christie display solutions and projectors capture the attention of audiences around the world with dynamic and stunning images, accompanied by awe-inspiring sound. Visit http://www.christiedigital.com.