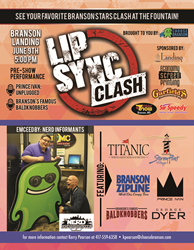 We cannot wait to see what hilarious antics come from this year's Lip Sync Clash.
Branson, MO (PRWEB) May 18, 2017
After enjoying an immense amount of success at the inaugural event last August, Choose Branson is pleased to announce the return of the Choose Branson Lip Sync Clash to the Branson Landing Fountain on June 9, 2017 at 5 p.m. The second annual lip syncing spectacle will be hosted by the Nerd Informants, a duo consisting of Josh Grisham and Tim Church that brings the Ozarks news and information regarding popular culture, comics, movies, videogames, collectibles and more every day.
The Choose Branson Lip Sync Clash will feature six groups of Branson entertainers and public figures battling to see who reigns supreme in the art of lip syncing to bizarre and hilarious music. As the only returning group from the 2016 event, the Titanic Museum will seek to retain the championship belt awarded to them a year ago when they performed renditions of various Beyoncé songs.
"We are looking forward to welcoming back the exciting Choose Branson Lip Sync Clash to Branson Landing's stage featuring our local Branson talent and community members as the Titanic Museum seeks to defend its championship title," said Branson Landing Director of Marketing and Entertainment Tammy Scholten.
Joining the Titanic on stage for the Choose Branson Lip Sync Clash will be representatives from Stormy Point Village and Branson Zipline, along with entertainers Prince Ivan, Branson's Famous Baldknobbers and George Dyer. New to this year will be a pre-show performance from local favorites and event competitors Prince Ivan and Branson's Famous Baldknobbers. Prince Ivan will be titling their acoustic performance "Prince Ivan: Unplugged" while the Baldknobbers will play some of the most popular songs from their hit show in town.
The Lip Sync Clash will be primarily sponsored by Summer Winds Resort Services, LLC while the Branson Landing, Economy Screen Printing, Garfield's Restaurant and Pub, Signs Now and Sir Speedy will also be sponsoring different aspects of the event.
"We are so excited to be bringing the wonderful people of Branson the Choose Branson Lip Sync Clash for a second consecutive year," Kerry Pearson, Choose Branson's social media specialist and event coordinator for the Lip Sync Clash, said. "There is an incredible list of sponsors for the event, and an even better lineup of performers and contestants. We cannot wait to see what hilarious antics come from this year's Lip Sync Clash."
About Choose Branson
Choose Branson is a leading travel resource company in the Branson area. Founded in 2005, Choose Branson has spent the last 10-plus years providing the highest quality of up to date information and unsurpassed deals on shows, attractions and vacation packages. The easy to navigate website offers information on everything from shows and attractions to hotels and lodging, as well as news, discounts, maps, free vacation guides and more. To find out additional information or to purchase tickets and vacation packages, visit ChooseBranson.com or call 1-800-4BRANSON.
About Branson Landing
Branson Landing is a $435 million – 95 acre public/private project spanning 1.5 miles of waterfront on the beautiful Lake Taneycomo, adjacent to historic downtown Branson, managed by Bayer Properties. Branson Landing is home to over 100 shops and restaurants, as well as the Hilton Promenade Hotel and a $7.5 million water and fire spectacular, anchored by Bass Pro Shops and BELK.
For additional information about the Choose Branson Lip Sync Clash, contact Kerry Pearson at (417) 243-8078, by email at kpearson(at)choosebranson(dot)com, or visit the event's Facebook page.