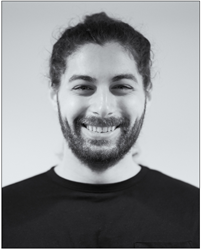 We're beginning to see all that this data can do and all the ways we can leverage research and design to present it in a way that makes the technology shine and make our insights that much clearer.
Princeton, NJ (PRWEB) May 22, 2017
Remarketable is preparing to bring their innovative and intuitive platform to market, as they aim to create a perfect state of marketing harmony with a world-class product experience. That effort, in large part, involves a forward-thinking, customer-friendly approach to platform design and UX. Today, ALC announces that they've added JT Cobell as Director of Product Experience & Design for Remarketable, effective March 27, 2017. Mr. Cobell will play a critical role in creating the Remarketable brand, and developing a seamless customer experience and leading-edge data visualization for Remarketable clients across all channels.
Remarketable, an ALC Smart Data Solutions Company (http://www.alc.com), is a privacy-compliant, omnichannel remarketing solution that reaches anonymous browsers with the highest propensity to transact by leveraging demographics and psychographics. By leveraging the same "intent-to-buy" web-browsing behavioral data deployed in display retargeting and integrating it with a comprehensive universe of 3rd party data, Remarketable matches anonymous users to postal and/or email addresses to send them targeted direct mail.
Before coming to Remarketable, Mr. Cobell was a visual designer at EPAM Systems, where he designed visual systems for front-end client-facing websites. His experience also includes working with boutique design consulting firm Electronic Ink to conduct user research for large companies to understand their needs and design better business systems, as well as improving user experience for HR portals, medical records systems and other internal platforms.
"I'm excited to bring user-centered design thinking to product and experience design at Remarketable," Mr. Cobell said. "There's a strong team here, with breakthrough technology and an incredible platform, and it's great to be in that stage where we're beginning to see all that this data can do and all the ways we can leverage research and design to present it in a way that makes the technology shine and make our insights that much clearer."
At Remarketable, Mr. Cobell will be in charge of leading the development of the brand's design and customer experience, drawing on his extensive experience with UX/UI to build a platform that is at once bold, streamlined, intuitive and insightful. Mr. Cobell's experience with data visualization will also enable him to showcase Remarketable's insights in an understandable and visually captivating way that truly highlights the platform's power.
"JT is such a valuable addition to our team, not only for his one-of-a-kind vision and daring approach to design and data visualization, but also for the fresh perspective he brings to addressing those vital aspects of the user experience that are necessary to create a platform that is both intuitive and visually appealing," said Andrew Fegley, President of Remarketable. "We're very excited about the direction we're headed, both as a team and as a brand, as we work to bring these solutions to market."
About ALC
Founded by Donn Rappaport in 1978, ALC has grown to become the leader in the field of data-driven marketing. ALC's proprietary customer acquisition and data monetization platform deploys leading-edge data marketing products and practices to enable its clients—including the leaders in virtually every category of business—to grow, increase market share and maximize bottom-line profitability through the innovative use of data. The company employs some 200 data marketing professionals in its Princeton, NJ headquarters and in eight sales, marketing and account management locations around the country. Over the past 38 years, ALC has generated more than $4.6 Billion in NET incremental data monetization income for its clients and partners. For more information, visit http://www.alc.com and http://www.alcdigital.com.