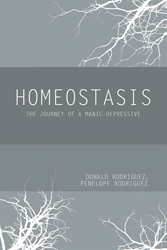 ST. PAUL, Minn. (PRWEB) May 22, 2017
"Homeostasis: The Journey of a Manic-Depressive" tells the story in real time of one young man's experience learning to live with Bipolar 1. Donald Rodriguez takes readers on a rollercoaster ride that includes a midnight trek to the top of an icy mountain in Alaska in the dead of winter and to a dark place where Donald considers suicide. Readers learn how Donald finally achieves mood stability, or his homeostasis. Penelope Rodriguez provides a parent's view as she shares her perspective of her son's story.
Throughout college, Donald loaded up on the toughest classes he could take as a pre-med student, joined a fraternity, played for the club hockey team, and took on more than he could handle. Donald's inability to concentrate combined with his bouts of depression and insomnia prompted his family physician to prescribe Adderall to focus, Prozac to boost his mood and Trazodone to help him sleep. Soon, Donald began abusing prescription drugs and scaring his family and friends with erratic behavior. Turns out he had the most serious form of bipolar rather than Attention Deficit Hyperactivity Disorder and situational depression.
"The worst part about being manic is you can't understand what's happening to your mind or realize the impact of your behavior until you do something that harms you or someone around you. I put my friends and family through hell before they were able to eventually convince me to get help," Donald admits. "I nearly lost my life in the process."
According to the Depression and Bipolar Support Alliance, bipolar disorder affects approximately 5.7 million adult Americans, which is about 2.6 percent of the U.S. population. It often strikes first in late adolescence. "We want to reach young men who may have bipolar disorder and their families to provide help, support and hope," said Penelope. "Bipolar disorder is a difficult, chronic disease to live with, but when managed properly, people can live very productive lives."
"As a person trying to come to terms with a recent bipolar diagnosis, this book is a helpful tool for me," a consumer wrote in a five-star review of "Homeostasis: The Journey of a Manic-Depressive." "It is very rare that someone lays out such a personal experience for the world to see."
To learn more about the book and Donald and Penelope's story, please visit their website.
"Homeostasis: The Journey of a Manic-Depressive"
By Donald and Penelope Rodriguez
ISBN: 978-1-48346-330-8 (paperback); 978-1-48346-329-2 (electronic)
Available at Lulu Publishing, Amazon and Barnes & Noble
About the author
Donald Rodriguez lives with his parents in Sunfish Lake, Minn. and is a graduate of Boston University. Penelope Rodriguez is the mother of Donald and runs a medical clinic in Eagan, Minn.
###
Review Copies & Interview Requests:
LAVIDGE – Phoenix
Chris Peña
480-998-2600 x 519
cpena(at)lavidge(dot)com
General Inquiries:
LAVIDGE – Phoenix
Kalin Thomas
480-998-2600 x 524
kthomas(at)lavidge(dot)com