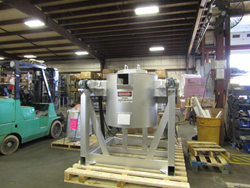 Riverside, MI (PRWEB) May 19, 2017
Lindberg/MPH announced the shipment of an electrically heated hand-tilting aluminum melting furnace to the sand casting industry. The furnace will be used as a central breakdown for transfer via bull ladle.
The resistance melting furnace has a melt rate of 50 lbs. per hour and can accommodate a crucible with a holding capacity of approximately 150 lbs. of molten aluminum. The furnace utilizes low voltage heating elements which provide a long service life.
The furnace shell is ruggedly reinforced with steel members and is lined with insulating firebrick and backup board resulting in a low exterior shell temperature. An easy to use hydraulic tilting mechanism is also included.
"At Lindberg/MPH we work to provide our customers with efficient solutions. The hydraulic tilting mechanism supplied with this aluminum melting furnace provided ease of use and efficiency for their operators."- Andrew Paul, Sales Engineer
Unique features of this Lindberg/MPH aluminum melting furnace include:

Rugged steel plate furnace construction
Low voltage rod overbend heating elements
Insulating firebrick and backup board
Hydraulic tilting mechanism
Stand alone control panel
Process Timer
Step down element transformer
Slag port door
This equipment is backed by Lindberg/MPH's Exclusive 3-Year warranty that covers all materials for all components (less wear items).
About Lindberg/MPH
In addition to melting and holding furnaces for non-ferrous alloys, Lindberg/MPH is a leading manufacturer of standard and custom industrial heat treat furnaces, including pit, box, IQ, and belt type for the ferrous and non-ferrous markets. Lindberg customers cover a wide range of industries including aerospace/military, automotive, commercial heat treating, energy/oil, electronics and the forging markets. Founded in 1917, the company has more than 75,000 industrial furnace installations worldwide and their equipment is backed by a full range of customer support services and the most extensive replacement parts inventory in the industry. Lindberg is a proven leader in the thermal processing industry, with a long track record of proven policies and management practices.
Lindberg/MPH is owned by Thermal Product Solutions ("TPS"), a leading American manufacturer of industrial ovens, furnaces, pharmaceutical sterilizers, laboratory ovens, environmental temperature chambers, and stability test chambers. TPS provides thermal processing and test solutions for a range of industries. TPS brands include Baker Furnace, Blue M, Gruenberg, Tenney, Lindberg, Lunaire, MPH, and Wisconsin Oven. For more information on equipment solutions from TPS visit the website at http://www.thermalproductsolutions.com. #225922