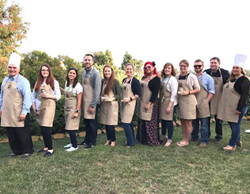 San Diego, California (PRWEB) May 18, 2017
Lajollacooks4u has added another option for companies looking for team-building activities. The Tapas Cooking Challenge is a two-hour team-building package designed for groups of 10-30 people. Guests can choose their tapas from a delicious menu created by Chef Jodi Abel, which include items, such as Blackened Shrimp with Edamame Salad, Pizza Rolls with Pepperoni and Mushrooms and Chocolate Mousse Sliders.
The event begins as participants are split into two groups to compete in an olive oil and vinegar tasting competition. Afterwards, a judge and head chef are selected for each team, and the cook-off begins with the teams preparing their selected tapas dishes in a specific amount of time. Teams are judged on various elements, such as taste, presentation, collaboration and team spirit. Ultimately, the victor is crowned and all participants sit down to enjoy the food they prepared while enjoying a spectacular view overlooking the Pacific Ocean.
One company recently quoted, "Jodi worked with our law firm on short notice to accommodate our team of 12 for tapas and wine, incorporating fun competitions and providing solid recipes that were manageable for everyone. Definitely more fun than a stuffy dinner. The views from her location were beautiful!"
Lajollacooks4u's Tapas Cooking Challenge gives any team – no matter the budget – an opportunity to participate, collaborate and have fun in a creative and intimate team-building experience.
For more information on this new product offering, as well as Lajollacooks4u's other corporate cooking challenges, please visit http://www.lajollacooks4u.com.
About Lajollacooks4u:
Lajollacooks4u, founded in 2008, provides a unique culinary experience for corporate cooking challenges and special events in a magnificent setting overlooking the Pacific Ocean. Based in La Jolla, California, Lajollacooks4u has enjoyed record growth since its inception and has been ranked as the top in its category by the popular travel review site, Trip Advisor. Chef Jodi Abel also recently released her cookbook, Lajollacooks4u: California Cuisine, an accumulation of the favorite recipes her guests have been raving about. For more information about her cooking events, as well as her cookbook, please contact jodi(at)lajollacooks4u.com.