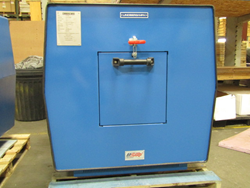 Riverside, MI (PRWEB) May 26, 2017
Lindberg/MPH announced the shipment of a Heavy Duty Box Furnace to a global provider of material and technology solutions. This box furnace will be used for processing glass. The furnace design was customized to the customer's specifications by moving the heating elements that are typically designed to be mounted on the roof and floor of the furnace to the sidewalls. This design change was necessary to prevent any melted glass from spilling onto the elements during processing.
The maximum temperature rating of this box furnace is 1500°C and has work chamber dimensions of 12" W x 14" D x 12" H. This heavy-duty box furnace has insulating vestibules and is equipped with directly hinged, insulated plug doors. The insulating door plug serves as a convenient loading platform in the open position. An internal vent located in the top center of the vestibule aids in dissipating the initial heat surge that occurs when the door is opened. Heating elements are horizontally positioned on either side of the heating chamber. The heating chamber is constructed of high-temperature graded insulation, providing excellent thermal efficiency.
"At Lindberg/MPH we know our customer's applications require tight temperature uniformity. This heat treat box furnace provided precise temperature uniformity, rapid response rate, dense load capability, and process repeatability which were all essential to our customer's process."- Kelley Shreve, Applications Engineer
Unique features of this Lindberg/MPH box furnace include:

High efficiency insulation. Double shell construction
Silicon carbide elements horizontally positioned on sidewalls of the chamber.
Door opens to a horizontal position and a spring-loaded mechanism holds it securely shut.
Designed with a Type "R" thermocouple
Fitted silicon-carbide hearthplate is standard equipment
About Lindberg/MPH
Lindberg/MPH is a leading manufacturer of standard and custom industrial heat treat furnaces, including pit, box, IQ, and belt type for the ferrous and non-ferrous markets. Lindberg/MPH customers cover a wide range of industries including aerospace/military, automotive, commercial heat treating, energy/oil, electronics and the forging markets. Founded in 1917, the company has more than 75,000 industrial furnace installations worldwide and their equipment is backed by a full range of customer support services and the most extensive replacement parts inventory in the industry. Lindberg/MPH is a proven leader in the thermal processing industry, with a long track record of proven policies and management practices.
Lindberg/MPH is owned by Thermal Product Solutions ("TPS"), a leading American manufacturer of industrial ovens, furnaces, pharmaceutical sterilizers, laboratory ovens, environmental temperature chambers, and stability test chambers. TPS provides thermal processing and test solutions for a range of industries. TPS brands include Baker Furnace, Blue M, Gruenberg, Tenney, Lindberg, Lunaire, MPH, and Wisconsin Oven. For more information on equipment solutions from TPS visit the website at http://www.thermalproductsolutions.com. #225447