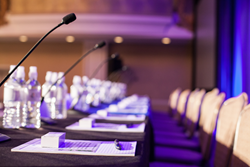 New York, NY (PRWEB) May 19, 2017
Perrin Conferences' Environmental Risk & Litigation Conference is set for June 20, 2017, at The Westin New York City at Times Square. This conference will feature a large contingent of leading in-house counsel and insurance company executives as well as plaintiff and defense attorneys and industry experts.
The 2017 conference will be chaired by Dwight A. Kern, Esq., Segal McCambridge Singer & Mahoney, Ltd., Jersey City, NJ; Marcel Ricciardelli., Senior Vice President, Allied World Assurance Company, Philadelphia, PA; Douglas J. Swanson., President/CEO, Roux Associates, Inc., Islandia, NY.
Engaging in panel discussions with attorneys and industry experts, these high-level participants will share their insights and ideas on environmental risk and litigation. In-house counsel and insurance company executives speaking at the conference come from companies such as Allied World Assurance Company, The Navigators Group, Crum & Foster, Beazley Group, Willis North America, XL Insurance, Kimco Realty, Aon Risk Solutions, Water Foundry, Aspen Specialty, RiverStone Claims Management LLC, and many others.
The conference is designed to enhance the dialogue between all parties affected by environmental litigation. Some of the topics to be discussed include Perfluorinated Chemicals- The Science and Law Behind PFOA; Don't Drink the Water: Lead, Vapor Intrusion & Groundwater Contamination; Underwriting in Today's (and Tomorrow's) Litigation Environment: What's Your Policy?; Update on Coverage Rulings and Risk, Fueling the World: The Risks Associated with Energy; The Corporate In- House & Insurance Perspectives: A Strategic Discussion on Today's Environmental Claims & Coverage Risks. In addition to offering CLE accreditation, this conference offers attendees an exclusive information exchange and networking opportunity in an environment of collaboration and learning.
For more information, registration and hotel accommodations, please visit http://www.PerrinConferences.com.
About Perrin Conferences
As the leading national provider of joint plaintiff/defendant litigation conferences, Perrin Conferences offers comprehensive and specialized continuing legal education (CE/CLE) in an atmosphere of learning, networking and sharing. The company's conferences attract influential leaders and foremost talent in the legal industry to discuss current topics in litigation through mock trials, presentations and webinars, setting the standard in professional litigation education and networking.
# # #
Contact:
Bethany Corio
Perrin Conferences
T. 610-220-1817
bcorio(at)perrinconferences(dot)com
http://www.perrinconferences.com