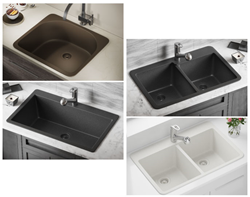 Topmount installation... is widely considered the least complicated and least expensive method.
Toledo, OH (PRWEB) May 22, 2017
Due to surging popularity and customer recommendations, MR Direct has expanded their TruGranite collection of composite sinks to include topmount models. Previously, all six TruGranite models available in six different colors, were only offered for under-the-counter (undermount) installation. Today, MR Direct is pleased to announce that four of their current undermount models are now available in topmount styles as well.
One benefit of topmount installation is that it is widely considered the least complicated and least expensive method. It is a popular option for customers who have laminate countertops, to conceal the bare core that is visible along the cutout edge. Topmount sinks are excellent options if there is a possibility of future renovations, because they are easily removed and replaced without disturbing the countertop.
Topmount TruGranites will be crafted from the same 80/20 ratio of quartzite to acrylic used in existing models. This formulation results in a sink that is as beautiful as it is durable. The heavy-duty material can withstand temperatures up to 550°. It is also stain-resistant, scratch-resistant, eco-friendly and recyclable. Additionally, all MR Direct TruGranite sinks are backed by a Limited Lifetime Warranty.
To view all TruGranite sinks and accessories, or any of the other extensive MR Direct lines of sinks and faucets, visit http://www.MRDirectint.com.