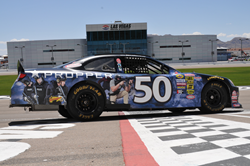 Propper's military heritage was a perfect complement to the mission of both organizations.
St. Charles, MO (PRWEB) May 23, 2017
Leading military uniform and tactical gear company Propper International has joined the ranks of NASCAR sponsors with a one-year partnership with Richard Petty Driving Experience.
In addition to providing apparel and gear to Richard Petty Driving Experience staff, Propper will wrap one of the RPDE racecars in its company colors and logo, with the number 50 on the sides and top in honor of Propper's 50th anniversary. Started in 1967, Propper's first military contract provided the iconic white Dixie Cup caps to the United States Navy. Over the next five decades, the company grew to become the country's largest supplier of BDUs and ACUs to the US military. In 1991, Propper branched out into the commercial market to provide tactical gear and apparel to law enforcement personnel and civilians.
"NASCAR has a long history of supporting and honoring the men and women who fight for our freedom," said John Negrau, VP, Marketing & eCommerce for Propper. "Our military heritage was a perfect complement to the mission of both organizations."
Chris Tompkins, Corporate Operations Manager for RPDE, agreed. "This is a terrific opportunity to reflect Richard Petty Driving Experience's continuing commitment to the armed forces and law enforcement communities," Tompkins said. "Partnering with Propper was a logical choice."
Richard Petty Driving Experience puts drivers in a NASCAR-style racecar for an adrenaline-pumping thrill of a lifetime that gets them as close to actual racing than they will ever get at more than 15 tracks around the country, including Daytona, Indy, Talladega, and Las Vegas.
About Propper
Propper is proudly celebrating 50 years in business in 2017. Making tactical gear with a purpose has been a way of life for Propper since their first U.S. Navy contract in 1967. Today, Propper designs and manufactures tactical clothing and gear that keeps military, law enforcement, and public safety professionals protected whether they're in the service, on the job, or off for the weekend.
About Richard Petty Driving Experience
Headquartered in Concord, NC, Richard Petty Driving Experience is the world-wide leader in NASCAR stock car drive and ride entertainment, with locations at major speedways throughout the U.S., including Las Vegas, Charlotte, Daytona, and Kansas City. Richard Petty Driving Experience maintains a broad range of product and service offerings, including auto manufacturer drive and ride programs, safe driving programs, mobile marketing events and motorsports-related production services for the television and film industry. RPDE is a portfolio company of BV Investment Partners, a leading middle-market private equity firm specializing in the information and business services, communications, and media sectors.
Visit DrivePetty.com or call 1.800.237.3889 for track locations, dates of operation, or to book an experience. On Social Media, Like Richard Petty Driving Experience on Facebook and Follow on Twitter at @DrivePetty.
For more information, press only:
David Workman
636-685-1062
davidw(at)propper(dot)com
For more information on Propper:
http://www.propper.com