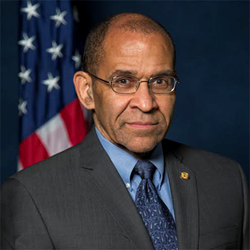 Flushing, NY (PRWEB) May 19, 2017
Vaughn College will celebrate its 85th Commencement on Saturday, May 20, 2017 beginning at 10 a.m. in the William R. DeCota Hangar. The Honorable Christopher A. Hart, former chairman and member of the National Transportation Safety Board (NTSB), will deliver the commencement address to more than 170 graduates. He will also be awarded an honorary degree by President Dr. Sharon B. DeVivo at the ceremony.
"I am honored to address the graduates, young men and women, who will undoubtedly be significant contributors to our society and economy," said Hart. "And kudos to Vaughn College for making this opportunity available to them."
Hart became a member of the NTSB in August 2009, and was designated vice chairman by President Barack Obama. He served as acting chairman from April 26, 2014, until he was appointed by President Obama as chairman on March 16, 2015. His term as chairman ended on March 15, 2017, and he is now serving as a member. His 5-year term as member will end December 31, 2017.
From 1973 until 1990, member Hart held a series of legal positions, mostly in the private sector. He joined the NTSB for the first time in 1990 and served until 1993. From 1993 until 1995, he was deputy administrator of the National Highway Traffic Safety Administration, then went on to serve as Federal Aviation Administration (FAA) assistant administrator for system safety and FAA deputy director for air traffic safety oversight before returning to the NTSB in 2009.
Hart holds a law degree from Harvard University and master's and bachelor's degrees in aerospace engineering from Princeton University. He is a member of the District of Columbia Bar and the Lawyer-Pilots Bar Association, and is a licensed pilot with commercial, multi engine, and instrument ratings. Hart's family has a tradition of accomplishment in transportation. In 1926, his great uncle, James Herman Banning, was the first African-American to receive a pilot's license issued by the US government.
"Vaughn College is proud to acknowledge the accomplishments of The Honorable Christopher A. Hart," said DeVivo. "His commitment to public service and the safety of our transportation system stands as a shining example to our graduates of someone who has lead a life of conviction and dedication to improving the lives of all Americans."
About Vaughn
Founded in 1932, Vaughn College is a private, four-year college that enrolls more than 1,600 students in master's, bachelor's and associate degree programs in engineering, technology, management and aviation on its main campus in New York City and online. The student-faculty ratio of 14 to 1 ensures a highly personalized learning environment. Ninety-eight percent of Vaughn College graduates are placed in professional positions or choose to continue their education within one year of graduation, eighty-one percent in a related field. They work in 20 countries and all 50 states. The institution serves many first-generation college students and is recognized by the US Department of Education as a Hispanic-Serving Institution. For more information, visit http://www.vaughn.edu.