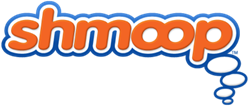 Mountain View, California (PRWEB) May 30, 2017
Anyone who claims that standardized test scores don't matter hasn't applied to college recently. Love it or hate it, these scores matter now more than ever, with scales like the Academic Index determining students' fate more ominously than an angry Greek god.
Shmoop (http://www.shmoop.com), a digital publisher known for its award-winning test prep and certified online courses, has added new practice exams to its SAT® and ACT® exam prep to help students crush these standardized tests so they can spend their time worrying about other things—like crafting a tear-jerking-but-not-clichéd personal statement. These new exams add even more oomph to Shmoop's existing offerings, which already include comprehensive topic review; hundreds of drills and multiple practice tests with answer explanations; and loads of supplemental goodies like diagnostic exams, videos, projected scores, and detailed progress monitoring.
Shmoop's test prep programs have demonstrated measurable success across the country. Seneca Senior High School in South Carolina used Shmoop's ACT exam prep, and its overall average composite ACT score went up 1.4% in just one year, from 18.8 to 19.3. Felicia LeRoy, Assistant Principal of Seneca Senior High, called Shmoop a "quality test prep program," adding that "students rave" about the program.
Students and teachers looking for individual or small-group access can subscribe to Shmoop. By doing so, they will gain access to all of Shmoop's test prep as well as hundreds of online courses, including SAT and ACT crash courses. Schools and districts can get bulk discounts on already below-market-rate materials by contacting sales(at)shmoop.com.
About Shmoop
Shmoop offers hundreds of thousands of pages of original content. Their Online Courses, Test Prep, Teaching Guides, Learning Guides, and interactive Study Tools are written by teachers and experts and balance a teen-friendly, approachable style with academically rigorous concepts. Shmoop sees 15 million unique visitors a month across desktop and mobile. The company has won numerous awards from EdTech Digest, Tech & Learning, and the Association of Educational Publishers. Launched in 2008, Shmoop makes the magic happen from a labradoodle-patrolled office in Mountain View, California.
SAT is a registered trademark of the College Board, which was not involved in the production of, and does not endorse, this product.
ACT is a federally registered trademark of ACT, Inc. Shmoop University is not affiliated with or endorsed by ACT, Inc.