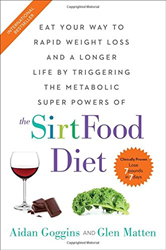 Chicago, IL (PRWEB) May 19, 2017
New research presented last month at the American Society for Biochemistry and Molecular Biology annual meeting and reported in TIME magazine [http://time.com/4751426/why-cinnamon-is-insanely-good-for-you/ lends further support for the science behind The Sirtfood Diet [http://www.thesirtfooddiet.com/ by nutritional experts Aidan Goggins and Glen Matten. These two scientists found that human sirtuin genes—long believed to be activated only by exercise or fasting—can be activated by a diet rich in a specific group of foods which they call "Sirtfoods".
The world of nutritional science has been turned on its head after studies running 5 years on over 7,400 individuals showed that certain foods slashed diabetes and heart disease by an incredible 30%, prevented weight gain and halted early death – all independent of calorie, carbohydrate or fat intake.*
Research shows these foods belong to a special group of plant foods called Sirtfoods which activate a family of genes in the body called sirtuins – the same genes activated by fasting and exercise. "The Sirtfood Diet" introduced a new group of foods rich in sirtuin-activating nutrients that are safer, more effective, and easier to access than pharmaceuticals. The plan presented in "The Sirtfood Diet" provides all of the health benefits of exercise and short term fasting, such as lowering blood sugar levels and weight loss, simply by eating these specific foods.
The research validating the impact of sirtuin-activating foods such as cinnamon on overall health is a game-changer. Understanding how food works on a genetic level (sirtuins) is a start, but the effects of cinnamon can't end high blood sugar alone. A diet utilizing the principals in "The Sirtfood Diet" can and should be considered a strategy for lowering and controlling blood sugar and weight.
Sirtfoods really are a group of wonder foods that have not previously been studied or understood to work on a genetic level to create human wellness—until now.
The authors of The Sirtfood Diet are available for select interviews. Please contact Jason Southerland at Dalyn Miller Public Relations: 617-504-8504 or via email at jason(at)dalynmillerpr(dot)com
-----------------
*– Multi Part Intervention Sirtfood Study – PREDIMED 7,400 Individuals Over 5 years
1. Estruch, et al. (NEJM, 2013)
2.Appel and Van Horn. (NEJM, 2013),
3. Ibarrola-Jurado, et al; (PLoS One, 2013)
4.Tresserra-Rimbau, et al (BMC medicine, 2014)
Study Conclusion: Sirtfood Rich Mediterranean Diet = 30% reduction in heart disease as well as 40% reduction in obesity risk, compared to equal calorie and equal fat and carb Western diet.