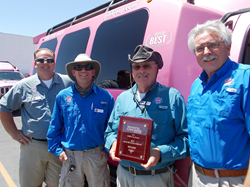 Las Vegas, Nevada (PRWEB) May 18, 2017
Pink Jeep Tours has an impeccable reputation for providing its guests with exciting, up-close encounters with the beauty and magic of the American Southwest. Now, for the sixth year in a row, Pink Jeep Tours has been recognized as the Best Ground Tour Company for its commitment to quality and service by the Southern Nevada Hotel Concierge Association.
The SNHCA Top Honors Awards Gala was held on April 30, 2017, at Caesar's Palace in Las Vegas. Highlighting the best that Las Vegas entertainment has to offer, the awards featured many well-known brands and companies. Pink Jeep Tours is honored to have been considered among them, and even more honored to have won the award for Best Ground Tour for the sixth consecutive year.
Pink Jeep Tours has been serving the Las Vegas area since 2001, offering exciting tours of the Vegas Strip and surrounding destinations, including the Valley of Fire State Park, Red Rock Canyon, the Hoover Dam, the Grand Canyon, and Death Valley.
Within their industry, Pink Jeep Tours stands apart from the rest with a solid commitment to quality. Their tour guides are the most highly-trained and entertaining in the field, bringing their tours to life with the cultural background of the area, fun facts and little known information, unique photo opportunities, and exceptional service. Pink Jeep Tours' commitment to conservation sets them apart as well. Working with the National Forest Foundation, Pink Jeep Tours' staff voluntarily help with trail clean up make annual contributions to the Foundation to help fund area conservation.
"We're determined to maintain our award-winning level of excellence," said Tim Miller, the company's president and CEO. "Every day, we consider it a privilege to share our enthusiasm and love for the outdoors with everyone who takes our tours."
Guests may book tours by visiting the Pink Jeep Tours website http://www.pinkjeeptours.com or by calling (800) 873-3662.
ABOUT PINK ADVENTURE GROUP
Founded in 1960 and based in Sedona, Arizona, Pink Adventure Group provides unique, unforgettable tour experiences to Sedona, Las Vegas, and the Grand Canyon, for visitors from around the world. With a fleet of over 150 cutting edge vehicles, it remains the only tour company with guide trainers certified by the National Association for Interpretation on its staff, and the only tour company to use the Smith System® of Driving by all guides.