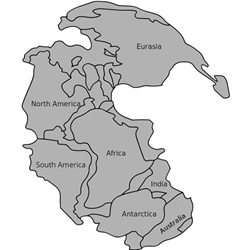 fascinating that a platform that started as a critical data repository for intelligence agencies now applies unique views of content to store nutritional information, safety regulations, styling details, or variants for configurable manufactured items
Sterling, VA (PRWEB) May 18, 2017
EnterWorks, a leading provider of Master Data Management (MDM) and Product Information Management (PIM) solutions, today offers a single view of content essential for companies such as US Foods, Restoration Hardware, and Publishers Clearing House, to tailor data for specific audiences and create personalized commerce experiences. However, at the time of its 1998 founding, its mission was bringing together physical and digital intelligence assets and information from a variety of national level command, control, communications and intelligence sources. It applied the "Pangaea" hypothesis of the globe, i.e., the idea of a singular supercontinent, to a centralized and singular view of global, unstructured data.
This virtual data model technology enabled secure, unified and role-based views of heterogeneous intelligence via EnterWorks' Master Data Management (MDM) and portal technologies. By providing the intelligence community with simultaneous access and a single virtual database that unified disparate and heterogeneous repositories, EnterWorks achieved a singular breakthrough in compiling data on emerging global trends and threats. The unique EnterWorks solution was marketed initially as Pangaea, a Virtual Data Base platform of unified, heterogeneous data bases comprised of real-time cataloging and process automation in e-marketplaces and information portals. Customers at that time included IBM/Tivoli, Boeing, the Defense Department, as well as certain intelligence community entities.
"The launch of EnterWorks as a 'mass storage prototype,' (MSP) created a virtual data base providing a unified view of information from legacy intelligence systems and other relevant sources," said Rick Chavie, CEO of EnterWorks. "As it evolved to a commercial market application today, this unique technology architecture of brings disparate data together for real-time correlative queries and conversions into structured information that takes the form of easily consumed content."
According to Chavie, the MSP implementation leveraged an intuitive web interface that was ahead of its time in its application of user friendly, technology to access federated views with less training than required of a full functionality client interface. So much so that the portal capabilities providing this access received an award for innovation from the Smithsonian.
John Jones, the Vice President who leads Research and Development for EnterWorks and has an intelligence background, has been with the organization since it launched in 1998. He adds: "Government Agencies needed a solution for tying multiple systems and sources to one unified view and model for reports. At the time, it took weeks if not months to generate needed reports. Through Pangea, aka the EnterWorks platform, we were able to achieve same day turnaround."
In the early 2000s, EnterWorks branched out from the public sector and engaged consumer, manufacturing, and banking firms as a critical means to supply unified product information and data management. According to Jones, the solution's ability to centralize product information, such as dimensions, color, size, price, and materials was well aligned with the growth of ecommerce as well as increasing customization of products to serve individual customer communities. What emerged was a technology that could serve complex, global and regional companies in consumer goods, food, medical, technology, office products, equipment, fashion and services.
Chavie adds: "The history of EnterWorks is intriguing. It is fascinating that a platform that started out as a critical data repository for intelligence agencies now applies its unique virtual views of content to store nutritional information, safety regulations, styling details, or variants for configurable manufactured items. Instead of intelligence analysts, we now enable the work of merchants, marketers, ecommerce users, logisticians, dealers and stores, among others."
About EnterWorks Holding Company
EnterWorks® Master Data Management (MDM) and Product Information Management (PIM) solution enables companies to acquire, manage and transform product information into persuasive content that drives higher sales and new competitive strengths through e-commerce Web, mobile, print and various electronic channels. Services offered include: Master Data Management, Product Information Management, Dynamic Data Modeling, Workflow & Collaboration, Syndication & Publishing, Digital Asset Management, Geographic Localization, Portal Content Exchange, and Digital Channel Accelerators.
EnterWorks is highly ranked by Gartner, Forrester and Ventana Research and used by industry leaders such as: EnterWorks customers include: Ariens, Big Rock Sports, CPO Commerce, Creative Converting, Darigold, Fender Musical Instruments, Guthy-Renker, Hearth & Home Technologies, HON Furniture, HP Hood, Interline Brands, Johnstone Supply, Mary Kay, Mercer, Orgill, Publishers Clearing House, Restoration Hardware, Strategic Market Alliance, US Foods, and W.B. Mason. Learn more at http://www.enterworks.com.