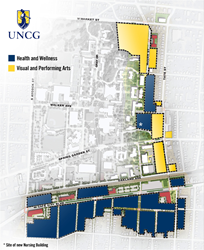 Greensboro, N.C. (PRWEB) May 19, 2017
The University of North Carolina Board of Governors today approved a proposal from The University of North Carolina at Greensboro (UNCG) for the establishment of a Millennial Campus designation, creating opportunities for growth, development of innovative academic experiences, and the creation of unique public-private partnerships for the university.
The approval designates two areas of the campus as new districts for future development: one primarily along Gate City Boulevard, which will focus on Health and Wellness, and the other along Tate Street, which will focus on Visual and Performing Arts. These areas of focus are directly tied to UNCG's strategic plan and enable the university to leverage existing assets and resources as it explores future opportunities. Collectively, the Millennial districts will encompass approximately 73 acres of existing campus property, as previously outlined in the Campus Master Plan.
With the Millennial Campus designation, UNCG can enter into arrangements with private-sector entities to develop university property or facilities for new ventures.
"The Millennial Campus designation will allow The University of North Carolina at Greensboro to develop innovative partnerships that fuel economic growth, innovation and job creation while also creating unique, meaningful academic experiences for its students," said UNC system President Margaret Spellings. "This approach will not only help transform UNCG and its region, but also create tremendous long-term value for our university system and for our state."
"We thank the Board of Governors for their support and confidence," said UNCG Chancellor Franklin D. Gilliam, Jr. "We are ready and eager to work with our community to bring these bold, exciting plans to fruition. At UNCG, we are not only planning for the future; we are taking Giant Steps to get there. Millennial districts are game-changers; they are catalysts that will help transform the university and our city. Ultimately our goal will be to create innovative partnerships that not only help us create a vibrant academic environment, but also bring economic development, jobs and valuable resources to our region."
The Health and Wellness District is uniquely positioned to encourage and stimulate applied research and education through the university's numerous community-based partnerships with organizations like Cone Health, High Point Regional Health System and Well∙Spring Services, Inc. Further, the ability to leverage university assets, including new Spartan Village student residences (open August 2017), the Leonard J. Kaplan Center for Wellness (built in 2016) and the future Nursing and Instructional Building, provide considerable opportunities to advance health promotion, quality of life, human development and economic well-being in the Piedmont Triad and beyond. Several existing or planned UNCG buildings dedicated to nursing, science education and research, not directly on Gate City Boulevard, are also included in the Health and Wellness District.
The Visual and Performing Arts District along Tate Street will encompass approximately 20 acres. The newly combined UNCG College of Visual and Performing Arts is already a vibrant community of artists with approximately 1,500 students, 100 internationally recognized faculty and excellent facilities. It produces more than 350 performances, exhibits, lectures and other community events annually. In addition, by maximizing arts-related facilities, like the campus' Weatherspoon Art Museum, UNCG Auditorium and Taylor Theatre, the university can build on its strengths and cultivate public-private partnerships to further develop opportunities for learning, teaching and service to the Greater Greensboro community.
About The University of North Carolina at Greensboro
The University of North Carolina at Greensboro, located in the Piedmont Triad region of North Carolina, is a high-research activity university as classified by the Carnegie Foundation. Founded in 1891 and one of the original three UNC system institutions, UNCG is one of the most diverse universities in the state with more than 19,600 students and 2,500 faculty and staff members representing more than 90 nationalities. With 86 undergraduate degrees in over 100 areas of study, as well as 52 master's and 28 doctoral programs, UNCG is consistently recognized nationally among the top universities for academic excellence and value, with noted strengths in education, health and wellness, the performing arts, business and the arts and sciences, among others. For additional information, please visit uncg.edu and follow UNCG on Facebook, Twitter and Instagram.