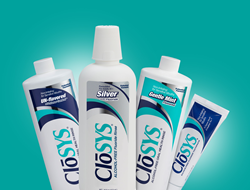 Dental professionals and patients have a lot of products to choose from and this new first ever ADA Seal helps dental professionals and the general public better understand the ClōSYS difference.
Scottsdale, AZ (PRWEB) May 18, 2017
ClōSYS products which are marketed as the gentle giants of the oral care industry are known for being non-irritating while extremely helpful for mouth and gum health, which is linked to one's overall health. Since 1991 when the ClōSYS patented formula was first introduced their professionals and customers learned quickly of the powerful ways in which ClōSYS products immediately helped eliminate bad breath as well as help reduce plaque and protect teeth and gums without the burn, foul taste, or discomfort usually found with other oral products.
"As the ADA Seal of Acceptance program is a well-established and well-respected symbol of excellence in dentistry, we are delighted to have our ClōSYS rinses be the first mouth rinses awarded the ADA Seal for the management of oral malodor," said James Ratcliff, CEO of, Rowpar Pharmaceuticals, Inc., makers of ClōSYS. "Dental professionals and patients have a lot of products to choose from and this new ADA Seal helps dental professionals and the general public better understand the ClōSYS difference. We are honored and excited to receive this recognition."
According to Andy Gritti, Executive Vice President of Rowpar, "ClōSYS rinses are great for people that are serious about their health. By taking care of the mouth we are in effect doing a lot to help the body remain healthy. The ADA seal for helping to eliminate bad breath adds great credibility for customers seeking a gentle yet effective oral care solution they can use every day."
Rowpar Pharmaceuticals manufactures and markets ClōSYS toothpaste, mouth rinse, and breath spray to dental offices, dental dealers and are sold over-the-counter through Walgreens, CVS Pharmacy, Walmart, Albertsons, CloSYS.com, Amazon.com, and others. For more information about ClōSYS visit: http://www.closys.com