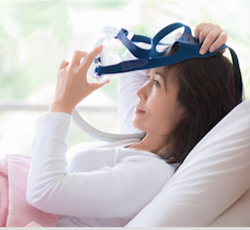 Santa Clara, CA (PRWEB) May 18, 2017
Somnoware, a leading provider of digital health technology, announces a new CPAP dispensing feature that allows sleep labs and physicians to independently dispense CPAP devices and supplies, such as machines, filters, tubing, and masks. Using this feature, physicians can quickly place DME orders, and sleep labs can dispense the devices. Device registration for daily usage data is automated, and a DME order is created for each patient that has been set up via Somnoware. This process reduces the transition of care, as well as prevents redundant data entry and error rates, by having patients complete their sleep history using electronic questionnaires.
After dispensing a device, the lab can create reports of CPAP supplies, equipment, and devices provided to patients for insurance reimbursement for quicker payment. This solution is primarily for self-pay patients or those covered by commercial health insurance, which applies to most patients placed on CPAP therapy. Unless the state law says otherwise, sleep lab staff can now sell CPAP devices and supplies to Medicare or Medicaid patients if the lab is not owned by physicians—generating an additional revenue stream.
With this new feature, patients are automatically on-boarded to the respective cloud-based care management platform, such as Philips® EncoreAnywhere™ and ResMed® AirView,™ and physicians can view daily PAP usage data in Somnoware. Lab staff only need to scan each item's barcode instead of manually entering data into an inventory management system, such as the specific DME device manufacturer or mask type, since this solution uses a scanner to recognize each item. Lab managers can also generate a monthly report of all inventory dispensed by the sleep lab to track their total inventory.
Sleep lab staff typically enter all patient data directly into multiple systems and then notify the patient by phone, often making 4-5 calls per patient. Staff working at large healthcare systems often track 4,000 or more PAP devices a month and handwrite their inventory list, then enter that data into other systems. This manual process delays DME device and supply orders, which increases the number of devices not being used or misplaced in a storage facility. The Somnoware platform provides proof of billing, as well as a record of each DME device and supply item being dispensed, for tracking purposes.
Aside from generating additional revenue for sleep labs, this new feature benefits patients as well. It provides them with the convenience of one-stop shopping for their sleep apnea diagnosis and treatment—creating a continuum of care from diagnosis to therapy. Using a scanner, lab staff can quickly enroll DME devices and supplies with manufacturer systems to receive patient PAP device usage data—improving compliance and care management. Many patients also have established relationships with lab staff and are more comfortable dealing with them for their PAP needs.
"We are very excited about our new DME dispensing feature," says Subath Kamalasan, CEO of Somnoware. "It enables sleep labs to manage large populations of patients using one unified system. This capability also allows labs to generate additional revenue beyond diagnosis. We follow the IHI Triple Aim framework by creating solutions to enhance the experience and outcomes for patient populations, as well as reduce the per capita cost of care for the benefit of communities."
As the industry's leading sleep health management platform, Somnoware is currently used by one in five sleep physicians in the United States. It is available in two versions—Somnoware for Physicians and Somnoware for Sleep Centers. Physicians get instant access to sleep test data, e-signature capability, one-click DME ordering, CPAP compliance data, and the ability to conduct end-to-end patient care management. Sleep centers can automate their complete workflow including scheduling at multiple centers, inventory management, automated reporting, therapy ordering, and AASM accreditation.
To learn more about Somnoware, please contact Raj Misra at media(at)Somnoware(dot)com.
About Somnoware
Somnoware is transforming sleep health management by accelerating diagnostics and increasing therapy adherence. It automates sleep testing processes, provides actionable data and predictive insights to physicians, and drives patient engagement. Our customer base includes leading health systems, independent sleep centers, and sleep services companies. Somnoware is headquartered in Santa Clara, California. For more information, please visit http://www.somnoware.com or follow us on twitter @somnoware.