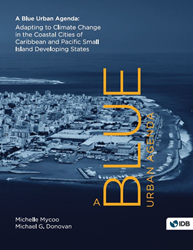 Washington, DC (PRWEB) May 19, 2017
A new study by the Inter-American Development Bank (IDB) estimates that 4.2 million people in Small Island Developing States (SIDS) in the Caribbean and in the Pacific are living in areas that are prone to flooding due to rising sea levels.
In addition to coastal erosion, rising sea levels are expected to negatively impact economic output and employment and could aggravate inflation and cause an increase in government debt, according to the study, A Blue Urban Agenda: Adapting to Climate Change in the Coastal Cities of Caribbean and Pacific Small Island Developing States.
"Caribbean and Pacific coastal cities are on the frontlines of climate change," said Michael G. Donovan, Senior Urban Specialist at the IDB, co-author of the study. "It is critical to adapt and improve the resilience of cities in coastal zones, especially those experiencing rapid urbanization. Mayors in port cities across the globe could benefit from the policies that Small Island Developing States are developing as their governments respond to coastal transformation," he added.