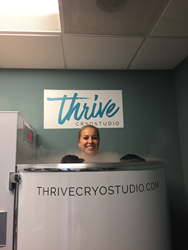 We're excited to finally open our doors in Annapolis. A lot of our clients have been asking us to open here, it took some time, but we're excited to finally provide the quality services and expertise our customers have come to know and love.
Annapolis, MD (PRWEB) May 23, 2017
Thrive CryoStudio announced the opening of their second retail location that offers cutting-edge Whole Body Cryotherapy (WBC) treatments. Like its first location, Thrive's Annapolis location is designed to bring cryotherapy, celluma light therapy and other recovery & wellness modalities to consumers in a safe, enjoyable and affordable way.
Cryotherapy is a relatively new form of treatment that has increased in popularity across the U.S., thanks in part to its use by professional athletes and celebrities. During cryotherapy, the body is exposed to extremely low temperatures (for 1-3 minutes) to trigger the body's most powerful mechanisms of self-protection, self-recovery and self-rejuvenation. The treatment has a vast array of benefits including reducing pain & inflammation, increasing muscle recovery, boosting metabolism and increasing energy levels, just to name a few. Thrive CryoStudio's existing clientele includes athletes & fitness enthusiasts of all levels, individuals looking for relief from arthritis, tendinitis and fibromyalgia pain, those looking for a better night's sleep, and many more.
Thrive CryoStudio will be the first company to offer cryotherapy treatments in the greater Annapolis, MD area. As part of their grand opening, Thrive will be offering special grand opening pricing and packages. Additionally, Thrive CryoStudio has plans to work closely with local gyms, health clubs, and fitness groups to offer special programs to their members.
Thrive CryoStudio's Annapolis location is located inside Symmetry Salon Studios at 2603 Housley Road, Annapolis, MD 21401. Thrive CryoStudio is working on additional locations that will open in late 2017 located in Bethesda, MD and Gaithersburg, MD. Appointments can be made via phone or through Thrive CryoStudio's website. Walk-ins are welcome. Hours of operation are Monday-Friday 9am-7pm, Saturday 9am-5pm and Sunday 10pm-2pm.
About Thrive CryoStudio
Thrive Cryostudio is the leading provider of non-invasive cold therapy specializing in pain management, beauty and wellness, athletic recovery, and overall health through a practice called Whole Body Cryotherapy. Thrive CryoStudio utilizes safe and effective Whole Body Cryotherapy to help their clients achieve their desired results. Thrive CryoStudio aims to provide the best whole body cryotherapy experience for all individuals looking for holistic wellness and recovery alternatives. Thrive CryoStudio prides itself in taking the time to listen, educate and walk each guest through their cryotherapy session and often recommends treatments tailored to each guest. For more information, visit http://www.ThriveCryoStudio.com
Follow Thrive CryoStudio:
https://www.facebook.com/thrivecryostudio
https://www.instagram.com/thrivecryostudio/