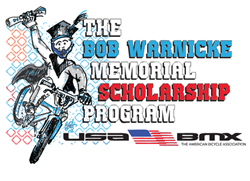 The selection process gets harder each year and we are grateful to all of our tracks that participate in the Warnicke Scholarship Race. Through the efforts of the tracks and private donors, we are able to continue to award these deserving students.
Gilbert, Arizona (PRWEB) May 20, 2017
USA BMX announces today that $53,500 in Bob Warnicke Scholarships for 2017 has been awarded to deserving students and their families.   Funds are raised annually though the Warnicke Scholarship Race.  This series of races was created to help fund The Bob Warnicke Memorial Scholarship Fund which assists students and their families in meeting the costs of undergraduate college education, trade school and other education avenues they would like to pursue. USA BMX/BMX Canada members who have a current USA BMX/BMX Canada membership or Track Operators/Officials who participate in BMX racing events sanctioned by USA BMX/BMX Canada are eligible to apply. Since 2013, more than $250,000 has been awarded.
On November 16, 1994, Bob passed away at the young age of 48 years old.  Well known for his leadership role and for his many efforts in promoting the sport, Bob's many contributions improved the sport and the image of BMX throughout the years.  He will best be remembered for his instrumental role in bringing BMX to millions of viewers through the airing of the "Road to Glory Series" on ESPN and ESPN2.  More than anything else, Bob was a person who cared deeply about the sport of BMX, and his dedication showed his commitment to the youth who benefited from his efforts. 
The Scholarship Program preserves Bob Warnicke's legacy of love by contributing to the futures of deserving USA BMX / BMX Canada members in his name.  This year 70 awards were given to recipients in 28 states and two Canadian provinces.  Thirty-three college or trade school bound students were first-time recipients of the award.  Fourteen students were second-year recipients, 16 were third-year recipients, and this year saw seven four-year recipients of the award.  Awards ranged from $500 to $3,000.
"Each year the pool of scholarship candidates increases and the quality of applications continue to improve," said BA Anderson, CEO of USA BMX.  "The selection process gets harder each year and we are grateful to all of our tracks that participate in the Warnicke Scholarship Race.  Through the efforts of the tracks and private donors, we are able to continue to award these deserving students."
The USA BMX Foundation has created an endowment for the Bob Warnicke Memorial Scholarship Fund.  Each year money raised through the Warnicke Scholarship races and the Hall of Fame Induction Ceremony are placed into the endowment.  Donations to the 501(c)3 are always appreciated and are utilized for the scholarship fund.  For more information on a Bob Warnicke Scholarship Race near you, visit usabmx.com.
2017 Bob Warnicke Scholarship Recipients are:
Rachel Mydock / Glendale, Arizona
Jena Sagendorf / Phoenix, Arizona
Katelyn Sauber / Cave Creek, Arizona
Demi Vaughn / Tucson, Arizona
Brandon Rutherford / Bauxite, Arkansas
Breanna Vriend / Garibaldi Highlands, British Columbia
Nicholas Gallizioli / Scotts Valley, California
Dustin Hammond / Stockton, California
Anthony Martinez / Fontana, California
Dawson OGorman / Beale AFB, California
Damian Ontiveros / Fremont, California
Kevin Pauls / Simi Valley, California
Spencer Adams / Grand Junction, Colorado
Shelby Schumacher / Thornton, Colorado
Jake Layman / Middlefield, Connecticut
Brianna Berger / Tampa, Florida
Nicolas Mabilleau /Temple Terrace, Florida
Ashley Turner / Fort White, Florida
Zephin Mann / Grovetown, Georgia
Heather Collman / Rockton, Illinois
Zachary Swim / Algonquin, Illinois
Jacob Szymanski / Oakwood Hills, Illinois
Corey Ross / Portage, Indiana
Dylan Seal / Richmond, Indiana
Shannon Taylor / Warsaw, Indiana
Emily Brent / Topeka, Kansas
Emrick Swan / Crestwood, Kentucky
David Lujan / Raytown, Missouri
Jamie Windholz / Centerview, Missouri
Luke Woodall / Pleasant Hill, Missouri
Ryan Ehlers / Lincoln, Nebraska
Connor Fields / Henderson, Nevada
Danielle Sanchez / Las Cruces, New Mexico
Aliceon Calta / Windsor, New York
Joey-Lynn Henderson / Ruby, New York
Justin Ledoux / Wallkill, New York
Cheyenne Noud / Ridge, New York
Christopher Bjerk / Archdale, North Carolina
Justin Posey / Winston-Salem, North Carolina
Rebecca Robison / Greensboro, North Carolina
Cole Tesar / Huntersville, North Carolina
Emily Mundahl / Bismarck, North Dakota
Gabriel Brun / Ottawa, Ontario
Emma Caswell / Cambridge, Ontario
Taylor Hunt / Welland, Ontario
Joshua Banuelos / Corvallis, Oregon
Taylor Stephens / Redmond, Oregon
Amanda Burlingame / Lake City, Pennsylvania
Timberly Cressman / Ford City, Pennsylvania
Colin Domnick / Dalton, Pennsylvania
Emily Garrity / Sayre, Pennsylvania
Shaylee Gunzenhauser / Bethel Park, Pennsylvania
Healey Miller / Lancaster, Pennsylvania
Samantha Miller / Pittsburgh, Pennsylvania
Debbie Slovikosky / Gallitzin, Pennsylvania
Adam Stangline / Spring Brook, Pennsylvania
Brianna Delamare / Providence, Rhode Island
Anna Beynon / Rock Hill, South Carolina
Destiny Dominguez / Arlington, Texas
Glenn Gross / Pearland, Texas
Caleb Wall / Amarillo, Texas
Brighton Alvey / Riverton, Utah
Andrew Bloomfield / Richfield, Utah
Rylie Edwards / Eagle Mountain, Utah
Sophia Foresta / South Jordan, Utah
Kristen Klein / Winchester, Virginia
Marcus Hutko / Orting, Washington
Taylor Mattingly / Kaukauna, Wisconsin
Cassandra Walkowski / Eagle River, Wisconsin
Grace Peterson / Reliance, Wyoming
 
About USA BMX
Founded in 1977, the American Bicycle Association (ABA) is the world's largest BMX racing organization with over 70,000 members racing at more than 300 sanctioned tracks across North America. United States operations are conducted under the brand USA BMX and Canadian operations are known as BMX Canada. For more information visit http://www.usabmx.com.