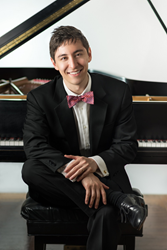 I love teaching and will always consider it a vital aspect of my musical career.
DeLand, Fla. (PRWEB) May 19, 2017
Sean Kennard, an internationally acclaimed classical pianist who has won many piano competitions and played as a soloist with orchestras around the world, has been selected as assistant professor of piano for the Stetson University School of Music. Kennard replaces Professor Michael Rickman, D.M.A. and Steinway Artist, who retired this month after 34 years.
"The School of Music faculty search committee, chaired by Professor David Bjella, reviewed well over 150 qualified applicants for this very important position and brought several candidates to campus," said Thomas Masse, D.M.A., dean of the School of Music. "As soon as we had a chance to meet Sean Kennard, watch him teach, hear him play, and see how he interacted with students and colleagues, it was clear to the entire School of Music community that Sean would be a wonderful match for Stetson, and Stetson for Sean.
"He is a young artist of rare gifts and has the wisdom and maturity of a seasoned faculty member. I know I speak for everyone when I say we are very much looking forward to Mr. Kennard's appointment," Masse said.
"I love teaching and will always consider it a vital aspect of my musical career," said Kennard, 32. "For me, doing so within the framework of an institution and contributing to a larger program is even better. I believe it will be a wonderful collaboration and anticipate many great years ahead."
At Stetson, Kennard also will oversee the Great Pianists at Stetson series and already has lined up artists for the upcoming academic year. The series will begin with Russian pianist Vyacheslav Gryaznov on Sept. 17, at 3 p.m., Kennard said by phone this week from New Haven, Connecticut, where he has been working on a Doctorate of Musical Arts from Yale University for the last three years.
Kennard performed in Carnegie Hall and won the International Chopin Competition of the Pacific before he turned 12. A long list of prizes, awards and performances from Tokyo to Paris to Chile followed.
His family moved to Philadelphia when he was a teenager so he could attend the Curtis Institute of Music where he received a Bachelor of Music, and he earned a Master of Music from the Juilliard School.
Kennard completed a two-year residential requirement of coursework and writing a thesis at Yale, and is in the first of three years of required professional experience. That includes performing and teaching, and he hopes it will lead to a D.M.A. in 2020 once he submits a portfolio, and completes an oral exam and recital.
About Stetson University
Founded in 1883, Stetson University is the oldest private university in Central Florida, providing a transforming education in the liberal arts tradition. Stetson stresses academic excellence and community-engaged learning, and consistently earns high marks in national rankings. Stetson encourages its students to go beyond success to significance in their lives, the lives of others and their communities. Stay connected with Stetson on social media.