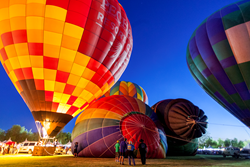 "The Temecula Valley is known for its sunny blue skies that warm our days and produce premium wines. It is this natural beauty we honor at the Temecula Valley Balloon & Wine Festival," stated executive director Andrea Jacobson.
Temecula, Ca (PRWEB) May 22, 2017
With the best cup of coffee in hand, a vista of emerald and olive green rolling hills, and crystal clear cerulean blue skies, nothing beats a hot air balloon-filled dawn in the Temecula Valley. Long-time residents can't resist showing off to their east coast relatives. First time visitors are so caught up in the breathtaking scene that they forget to snap selfies.
It is this beauty that the Temecula Valley Balloon & Wine Festival celebrates every year with a three-day Festival, in the heart of Wine Country. The 34-year-old event returns to Lake Skinner Recreation Area, June 2-4, 2017. A multi-species reserve, Lake Skinner offers the "Best of the Fest" for those who camp during the event, as they are surrounded by nature that is nurtured by a perfect climate.
While hot air balloons are the dawn highlights, Temecula's wine industry shines throughout the day with 17 wineries represented in the wine gardens. Wine tasting at the Festival is $2 for a taste. When you find the wine you love, you can purchase a full glass for $8. Reserve wine tasting offers the winemakers' best wines and are sold in packages of eight tastes for $50, including a specialty souvenir glass. Only 1,000 of these packages are available and advance purchase is recommended.
For those who want to pair local wines with local cuisines, the Festival offers three wine and food pairing sessions. Here, four courses are paired with the perfect Southern California Wine, while the chefs share their recipes and prepare their food on stage. Craft beer lovers will enjoy the Beer & Food Pairing event where Pechanga Resort & Casino' s chef will prepare the four courses with craft beers from Anheuser Busch.
Afternoons and evenings also feature live concerts on two stages. Headliners include a Back to the 80s' Friday bash with The Motels, Dramarama, Annabella's Bow Wow Wow, Nu Shooz, Pretty Poison, Tommy Tutone, and Gene Loves Jezebel,; Rockin' Saturday with Bush, Gin Blossoms, Tonic, Jazz saxophonist Mindi Abair & the Boneshakers, and Country Sunday with Josh Turner, Cassadee Pope, David Nail and "Nashville" actor/singer Chris Carmack.
The Temecula Valley Balloon & Wine Festival features dawn hot air balloon launches Saturday & Sunday, free morning tethered rides, premium wine tasting, microbrew tasting, food and wine pairing, chef demonstrations and beer and food pairing, as well as a full international food court, arts and crafts, and a kids fair. Friday and Saturday evenings also feature the popular evening balloon glow (weather permitting.)
Check http://www.tvbwf.com for scheduled times and activities or call (951) 676-6713. Hot air balloon flights, tethers and evening glows are subject last minute cancellations due to weather.