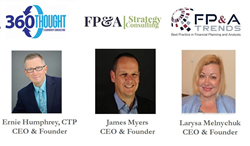 FP&A done right can deliver competitive advantage. Companies of any size can leverage technology that when aligned with the right people and processes fuels productivity across the enterprise.
(PRWEB) May 23, 2017
Three renowned FP&A thought leaders have teamed up to launch the first annual "FP&A Empowerment:The Evolution of Technology & Trends Survey" (http://bit.ly/EmpowerFPA ).
The role of the CFO is changing: It's moving away from compliance and optimization, towards a more strategic; customer facing disruptive role. But how empowered are their FP&A teams to support them in this new world?
The goals of this survey is to identify and analyze current and emerging trends relative to:

How companies are leveraging technology.
The maturity of their Analytics solutions.
How much time is spent on value-adding activities.
The effectiveness and efficiency their Planning Processes.
The willingness of executives to listen and invest in FP&A.
We invite FP&A and Finance Leaders to help us create valuable benchmarks and receive a complimentary customized survey report relative to your company's demographic.