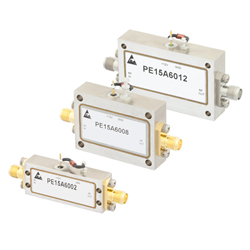 "By expanding our offering of broadband limiting amplifiers we can offer our customers even more application support and flexibility," said Tim Galla, Active Equipment Product Manager
IRVINE, Calif. (PRWEB) May 23, 2017
Pasternack, a leading provider of RF, microwave and millimeter wave products, has expanded its offering of broadband limiting amplifiers which are commonly used in electronic warfare, microwave receivers and broadband communications systems.
Pasternack's coaxial broadband limiting amplifiers cover a wide frequency range, from 1 GHz to 18 GHz, and are used to protect sensitive microwave receivers by "limiting" excessive input power which could potentially create unwanted distortion or even damage the receiver.
These RF amplifiers offer a wide input dynamic range between -61 dBm to +20 dBm, high gain levels of 40 to 80 dB typical while exhibiting excellent gain flatness performance of ±1 dB depending on the specific model. Additionally, these limiting amplifiers accept a wide range of input power levels while responding with a limited range of output power, between 15 and 19 dBm, with a saturated power output deviation of ±0.5 dB over the frequency range, independent of the input.
Pasternack's wideband limiting amplifiers are housed in hermetically-sealed packages and are designed to withstand harsh environments with operating temperatures ranging from -30 to +70 degrees Celsius. Over-voltage protection is installed externally for easy repair and the amplifiers are fully matched internally for 50 Ohm input and output, which eliminates the customer's need for additional sensitive, external RF tuning components.
"By expanding our offering of broadband limiting amplifiers we can offer our customers even more application support and flexibility," said Tim Galla, Active Equipment Product Manager. "Furthermore, these limiting amplifiers are all in-stock and ready to ship to address the urgent needs of our customers," continued Galla.
Pasternack's five models of limiting amplifiers include the PE15A6002 which features 60 dB of gain and supports 1 GHz to 2 GHz frequency range; the PE15A6015 which features 40 dB of gain and supports 2 GHz to 4 GHz; the PE15A6007 which features 80 dB of gain and frequency range of 2 GHz to 6 GHz; the PE15A6008 which features 40 dB of gain and a frequency range of 2 GHz to 8 GHz; and the PE15A6012 which offers 40 dB of gain and a frequency range of 6 GHz to 18 GHz.
Pasternack's broadband limiting amplifiers are in-stock and ready for immediate shipment with no minimum order quantity. For detailed information on these products, please visit https://www.pasternack.com/pages/Featured_Products/limiting-amplifiers.html.
For inquiries, Pasternack can be contacted at +1-949-261-1920.
###
About Pasternack:
A leader in RF products since 1972, Pasternack is an ISO 9001:2008 certified manufacturer and supplier offering the industry's largest selection of active and passive RF, microwave and millimeter wave products available for same-day shipping. Pasternack is an Infinite Electronics company.
Press Contact:
Peter McNeil
Pasternack
17792 Fitch
Irvine, CA 92614