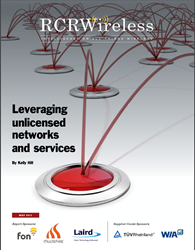 Deployments and device support are still relatively new for some of these emerging technologies in unlicensed spectrum, so it's going to take a few years to see what really gains traction
Austin, Texas (PRWEB) May 22, 2017
RCR Wireless News spoke with experts across the Wi-Fi ecosystem for their views on current trends and challenges in leveraging and managing unlicensed spectrum and networks, including Wi-Fi 360, Fon, Ruckus Wireless, Boingo Wireless, Cloud4Wi, iBwave, Cisco and more.
The report, entitled "Leveraging Unlicensed Networks and Services" contains insight into the latest trends and challenges in the unlicensed spectrum space; new services that are emerging in the Wi-Fi market, and how enterprises and service providers are increasingly leveraging analytics for both network performance and management as well as in new ways of engaging customers.
Cisco predicts that by 2021, 50% of all IP traffic will be carried via Wi-Fi networks, compared to 30% on wireline networks and 20% originating on cellular networks. In that context, it's easy to understand why both fixed and wireless operators are seeking to more closely leverage Wi-Fi, and unlicensed spectrum in general – either through more offload onto hot spot networks in public, large venues, the enterprise and the home, or by directly accessing unlicensed spectrum through aggregation to supplement cellular network capacity.
"What's frustrating with Wi-Fi networks is that there's such a wide range of difference of performance," said Benoit Fleury, VP of product line management at network planning tools company iBwave. "Whether it's for large or small venues, it doesn't seem to matter – from the extremely poor experience you can get from Wi-Fi to the fantastic experience you can get, there's such a wide range."
Download this report to learn:

Wi-Fi features and standards that are influencing network planning and management
Examples of how service providers and enterprises are leveraging their Wi-Fi for analytics
Emerging features and technologies that are set to change how unlicensed spectrum is used
Watch the complimentary editorial webinar featuring: Kelly Hill, Editor, Test and Measurement, RCR Wireless News
Adlane Fellah, Managing Director, Wi-Fi 360
Art King, Director of Enterprise Services & Technologies, SpiderCloud Wireless; Member, MulteFire Alliance
Kevin Robinson, VP of Marketing, Wi-Fi Alliance
"Due to capacity needs and costs, network operators and enterprises are trying to leverage unlicensed spectrum in new ways," said Kelly Hill, editor at RCR Wireless News. "Sometimes this means paying more attention to network planning and deployment to make best use of Wi-Fi, or exploring analytics to boost customer engagement or find efficiencies in their own operations. Meanwhile, Wi-Fi is becoming more cellular in terms of features and management even as there are new developments underway in terms of additional spectrum at 3.5 GHz as well as the use of LTE in various unlicensed bands. Deployments and device support are still relatively new for some of these emerging technologies in unlicensed spectrum, so it's going to take a few years to see what really gains traction."
About RCR Wireless News
Since 1982, RCR Wireless News has been providing wireless and mobile industry news, insights, and analysis to industry and enterprise professionals, decision makers, policy makers, analysts and investors. Our mission is to connect, globally and locally, mobile technology professionals and companies online, in person, and now on video. Our dedication to editorial excellence coupled with one of the industry's most comprehensive industry databases and digital networks leads readers and advertisers to consistently choose RCR Wireless News over other industry publications. http://www.rcrwireless.com