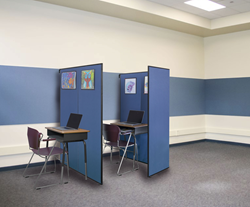 Screenflex Study Carrels are taller, more sound absorbing, and more versatile than any other study carrel on the market.
Lake Zurich, IL (PRWEB) May 23, 2017
Screenflex Portable Room Dividers, the leading manufacturer of versatile portable walls, today announced the worldwide release of reinvented Study Carrels to its product lines. Screenflex Study Carrels offer educators more options to respond to a variety of learning styles, medical needs, testing centers, and classroom or library designs.
"The inspiration for the sound absorbing Study Carrel came from our customers who were looking to create a semi-permanent, more private environment for students who are easily distracted or required individualized instruction, but allowed the student to remain within the classroom or library," remarks Rich Maas, Screenflex Vice President. "In our 29 years of making room dividers, Screenflex has strived to create the highest quality partitions, of unique design, to meet the room dividing needs of our customers." Our new line accomplishes precisely that. It is taller, more sound absorbing, and more versatile than any other study carrel on the market. When not in use, Screenflex Study Carrels can store flat or folded against the wall and be used as an art display area. This is truly a teacher's dream.
Educators want privacy to deliver individualized instruction in an effective and meaningful way and the best way to accomplish this is to eliminate distractions. Now, with the Screenflex Study Carrel, the instructor has a way to create the semi-enclosed space necessary for focused learning. Better yet, the student can remain in the classroom, library or office under appropriate supervision instead of being pulled out into another space or hallway. This concept is especially helpful in today's open learning spaces.
The Screenflex Study Carrel is ideal for:

Accommodating testing requirements
Providing individual instruction
Tutoring
Medical screening
Therapy sessions
Hanging artwork
The Screenflex Study Carrel is constructed from sturdy steel framing that is secured to the wall and is available in 5'7" in height and in two lengths 3'8" (2-panels) and 5'6" (3-panels). Glides on the bottom of the Study Carrel adjust to varying floor surfaces to provide a level temporary wall. Each Carrel is constructed from a honeycomb core, followed by two layers of environmentally friendly insulation on either side of the panel to absorb up to 50% of the ambient noise in a room. Add your choice of one of our 30 fabric color options. Use tacks, pins, and staples to adhere items to the fabric surface.
Screenflex Portable Partitions Inc. is the leading innovator of portable room dividers worldwide. Since 1988, Screenflex has built dividers from the highest quality of materials to meet our customer specifications. For more information visit http://www.screenflex.com/products/study-carrels/