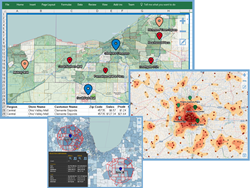 Visual Crossing for Microsoft Excel provides affordable, presentation-quality maps and geospatial analysis that is accessible to every spreadsheet user from casual to professional.
Reston, VA (PRWEB) May 23, 2017
Visual Crossing Corporation has released its enterprise-proven mapping software as an easy-to-use add-in for Microsoft Excel. Visual Crossing for Microsoft Excel empowers spreadsheet users to bring presentation-quality maps and geospatial analysis to their own Excel data whether for business, education, or personal use. Visual Crossing mapping technology is based on Visual Crossing's ten years of enterprise mapping experience. The visualization, performance, and analytical capabilities are used by Fortune 500 and global enterprises to add geospatial analysis to business data on sophisticated analytics platforms such as MicroStrategy and SAP.
"Visual Crossing's high performance is essential in our ability to successfully deliver powerful mapping to our users. Visual Crossing is the only tool that can achieve the performance required to visualize and analyze our large datasets," said Zoltán Bánkuti, CEO of BiXPERT. Additional features of Visual Crossing include completely customizable map formatting, flexible labelling functionality, dynamic visual data sequences, and advanced selection and analysis capability. Users can not only make presentation-quality maps, but they can also do interactive data analysis directly within the map itself.
Affordable, presentation-quality maps and geospatial analysis for everyone
Visual Crossing for Microsoft Excel is priced to be affordable for every user. At less than $2 per month, the new product is well within the reach of every Excel user. Millions of people use Excel for data analysis every day, and now these users have access to the same industrial-strength mapping technology for which enterprise businesses have relied on for more than a decade.
"Our goal is to give Excel users the same mapping technology enjoyed by users of expensive BI software such as SAP and MicroStrategy. These power-users have the tools to realize the geographic power hidden within their data. We wanted to make those tools affordable, flexible, and easy-to-use, so that every spreadsheet user could benefit," said Sam Helwig, Director of Engineering for Visual Crossing.
More powerful than Microsoft Excel's Power Map
Many Excel users start their data mapping experience with Microsoft's built-in mapping tool, Power Map. However, the limited functionality and lack of flexibility that Power Map provides often leaves users wanting more. Visual Crossing brings functionality such as advanced selections, formatting, and labeling that Power Map doesn't provide. Making presentation-quality and fully printable maps requires the flexibility and customization that only available with Visual Crossing for Microsoft Excel.
In addition, Visual Crossing is fully embeddable within any Excel worksheet. This allows the easy creation of custom dashboards and presentation workflows where grids, graphs, and maps coexist in one interactive document. Any user can open an Excel file with an existing map and immediately benefit from the saved visualization or begin additional geospatial analysis.
Harnessing the power of cloud-base mapping
Using the power of cloud-based servers, Visual Crossing for Microsoft Excel avoids the costly and complex process of managing geospatial data and setting up dedicated server hardware. Instead, the map server technology is hosted in the cloud making it always available yet unseen by the end-user. The only component installed on the Excel user's machine is a small add-in available from the Microsoft Office Store. For business users or others who have additional security requirements or need custom data, Visual Crossing is available both as a custom, cloud-hosted solution as well as a package that can be installed on-premises.
About Visual Crossing for Microsoft Excel
Visual Crossing for Microsoft Excel combines the power of Visual Crossing's proven, enterprise-grade mapping technology and Microsoft Excel, the most pervasive data analysis platform in the world. Available in the Microsoft Office Store as a free trial and for a low monthly subscription cost of $1.49 (or local currency equivalent), Visual Crossing for Microsoft Excel sets a new standard for ease-of-use and geospatial analysis for the millions of Excel users around the world. Multiuser and enterprise licenses are also available.
For more information and to see a demo, please visit http://www.visualcrossing.com/excel.
About Visual Crossing
Founded in 2003, Visual Crossing Corporation is the technology leader in mapping integrations for business data solutions. With expertise in both data analysis and mapping systems, Visual Crossing is uniquely positioned to bring together the best of both disciplines. For more information please visit http://www.visualcrossing.com.
Visual Crossing, Visual Crossing for Microsoft Excel, and Visual Crossing Map Services are trademarks of Visual Crossing Corporation. Other company and product names may be trademarks of their respective owners.