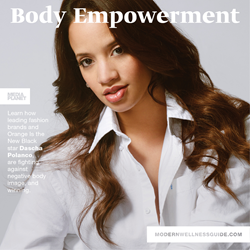 A study conducted by PLUS Model magazine showed that a size six is now considered "plus size" in the modeling industry today.
New York, NY (PRWEB) May 19, 2017
Mediaplanet today announces the launch of this May's cross-platform edition of "Body Empowerment." In time for summer, a season when many women feel an increasing pressure to live up to the standards they see in the media, this campaign will encourage women of all kinds to love and celebrate their bodies, just as they are. Additionally, it will highlight the influencers, brands and campaigns that are working towards one message: total female body empowerment for all shapes, sizes and colors!
A study conducted by PLUS Model magazine showed that a size six is now considered "plus size" in the modeling industry; today, the average American woman wears a size 16. Only five percent of women naturally possess the body type often portrayed by Americans in the media, so it's no wonder that approximately 91 percent of American women are unhappy with their bodies and resort to unhealthy habits to achieve what might be an unattainable ideal.
"Orange Is the New Black" actress and body positivity advocate Dascha Polanco graces the cover of the print publication. Through an exclusive interview with Mediaplanet, she opens up about the importance of body positive role models today. "Body empowerment has been scarce in my life and a necessity," she confesses, noting that everyone needs positive body images. Polanco also shares some tips and tricks for feeling her best, even on her off days. "How I have remained in cruise control is by facing that mirror and taking pictures and repeating to myself, 'I accept myself and I am so much more than this body,'" says the television star. The number one message she hopes everyone, especially those who struggle with self-confidence, hears is: "It's all mind and soul over matter. Time will surpass you. Live and seize the moment."
The print component of "Body Empowerment" is distributed within Friday's edition of USA Today with a circulation of approximately 250,000 copies and an estimated readership of over six million. The digital component is distributed nationally through a vast social media strategy and across a network of top news sites and partner outlets. To explore the digital version of the campaign, click here.
Mediaplanet's "Body Empowerment" campaign was made possible with the support of actress Dascha Polanco, comedian Margaret Cho, television personality Nina Parker, StyleLikeU, Her Campus, The Body Positive, Healthy Is the New Skinny and more.
About Mediaplanet
Mediaplanet specializes in the creation of content marketing campaigns covering a variety of industries. We tell meaningful stories that educate our audience and position our clients as solution providers. Our unique ability to pair the right leaders with the right readers, through the right platforms, has made Mediaplanet a global content marketing powerhouse. Our award-winning stories have won the hearts of countless readers while serving as a valuable platform for brands and their missions. Just call us storytellers with a purpose. Please visit http://www.mediaplanet.com for more on who we are and what we do.
Press Contact:
Caroline Trugman
Caroline.trugman(at)mediaplanet(dot)com
(845) 709-0275