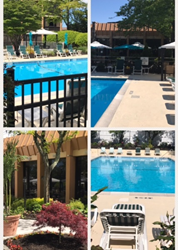 The outdoor courtyard and pool area is spectacular...we no longer want it to be a secret.
Carle Place, NY (PRWEB) May 19, 2017
With summer just around the corner, the Holiday Inn Westbury – Long Island's Director of Sales and Marketing, Stephanie Lambert, has created a Social Media Contest to showcase the Holiday Inn as a more than ideal full-service hotel on Long Island. Her goal is to showcase the Hotel's outdoor garden courtyard and pool area, as well as the Hotel's centralized location within Nassau County, Long Island to potential visitors and those seeking to explore and discover all that Long Island has to offer.
The Holiday Inn Westbury is located within just miles of some of the Island's top attractions and points of interest, which includes, but is not limited to Nassau Coliseum, Jones Beach, Eisenhower Park, Old Westbury Gardens, Museum Row, Roosevelt Field Mall, and many top restaurants. For those seeking some rest and relaxation, the Holiday Inn is sure that their guests will enjoy the oasis they created in their picturesque courtyard, as their garden and pool area are unique, especially when compared to other hotels in the area. The Hotel invests a lot of time and resources in making the courtyard and pool something out of the ordinary for their guests to enjoy as an amenity and service.
The Hotel's new restaurant, LiLLiES Restaurant and Bar provides outdoor patio dining and beverage service, and the Hotel's new Lobby Market is located on the first floor, just steps from the courtyard and pool area where guests can purchase a wide variety of snacks, beverages, sundries and convenience items.
The reason for the Social Media Contest is to bring attention to the Hotel's best kept secret, which has been their courtyard and pool area, which is how Stephanie referred to it. She added, "The outdoor courtyard and pool area is spectacular, and our guests are always surprised to see and experience one of our finest amenities. We no longer want it to be a secret. We want guests to know that we provide something to them that has added value, and something that is unique to the Hotel. This is the first time we're offer a raffle prize to this extent during our peak season, but we know seeing is believing; therefore, we wanted to do something out of the ordinary, and develop more word-of-mouth awareness, and we felt this was a unique way to do so." Stephanie went on to explain the importance of Social Media in the industry, and not just focusing on one or two outlets. She stated, "Today, just about every generation is utilizing Social Media, and since we believe we can and do appeal to a wide range of customers and markets, we're promoting this on four different platforms to attract and appeal to potential Long Island visitors."
Those that participate in the Social Media contest have a chance to win a two-night stay for two during the 2017 summer season, and the package will also include breakfast, a wine tasting on the first night, and dinner on the second night. The Holiday Inn Westbury will choose up to four – (4) winners, with each one being from a different social media site of theirs. For additional information, rules and restrictions, one should visit the Hotel's blog, and review the Sizzling Summer Oasis Raffle Prize Contest.
The Holiday Inn Westbury is a full service 152 room property that is independently owned and operated. For additional information, please visit http://www.hiwestburyhotel.com.