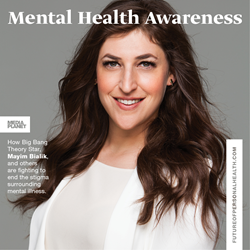 1 in 5 adults, or 43.8 million, in the US have a mental health condition.
New York, NY (PRWEB) May 19, 2017
Mediaplanet announces distribution of the latest edition of "Mental Health," a cross-platform campaign that highlights prevention/intervention services, treatment advancements, and support programs for the mental health community.
1 in 5 adults in the US have a mental health condition that is 43.8 million experience a mental illness in a given year. Furthermore, 9.8 million adults experience a serious mental illness in a given year such as schizophrenia, bio-polar disorder, and major depression. Unfortunately, the negative stigma surrounding mental health only intensifies the situation, preventing people from seeking help due to feelings of shame and can even lead to suicide in some cases. Mental Health is a critical part of overall wellness and it's imperative we treat it as is. This Mental Health Awareness Month we are making mental health a priority and putting advocacy at the forefront.
Actress & Mental Health Advocate, Mayim Bialik, speaks out about her family's personal mental health struggles and how resources like NAMI and her own educational background helped her understand these illnesses more. In an exclusive interview with Mediaplanet, Mayim share what being stigma-free means to her as it is so important that we, as a society overcome the negative sigma commonly associate with mental health issues.
"Being stigma-free means bringing to light things we have kept dark for so long," she explains. "Stigma-free means acknowledging we struggle and showing the ways we cope so that we can still be present, functional and production in our work, home and love lives," Mayim concludes.
The print component of "Mental Health" is distributed within the May 18th issue of USA Today in New York, LA, Chicago, Washington D.C./Baltimore, and Philadelphia with a circulation of approximately 250,000 copies and an estimated readership of 750,000 readers. The digital component is distributed nationally, through a vast social media strategy, and across a network of top news sites and partner outlets. To explore the digital version of the campaign, click here.
This edition of "Mental Health" was made possible with the support of NAMI, Mental Health America, Depression & Bipolar Support Alliance, Scizophrenia & Related Disorers Alliance of America, Anxiety & Depression Association of America, Mayim Bialik, Torrey DeVitto, Alkermes, Scattergood Foundation, Margaret Clark Morgan Foundation, Sunovion, Neurocrine Biosciences, Center for Cognition & Recovery, Screening For Mental Health, Admera Health, National Center for PTSD, Mental Health Channel, Entertainment Industries Council, The Carter Center, Art With Impact, Clubhouse International, Molloy College and many more.
About Mediaplanet
Mediaplanet specializes in the creation of content marketing campaigns covering a variety of industries. We tell meaningful stories that educate our audience and position our clients as solution providers. Our unique ability to pair the right leaders with the right readers, through the right platforms, has made Mediaplanet a global content marketing powerhouse. Our award-winning stories have won the hearts of countless readers while serving as a valuable platform for brands and their missions. Just call us storytellers with a purpose. Please visit http://www.mediaplanet.com for more on who we are and what we do.
Press Contact:
Harika Manne
Harika.manne(at)mediaplanet(dot)com
646-755-7951