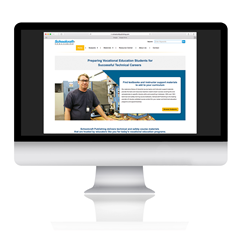 With our new addition of the custom book builder, instructors can easily visualize the individual topics that are required in their syllabus as one affordable textbook solution. - Pete Heinrich, Senior Account Manager
Buffalo Grove, IL (PRWEB) May 23, 2017
Schoolcraft Publishing, a leading provider of industrial and vocational course materials, launched its restructured website today. The new website simplifies matching relevant content to instructor curricula through advanced search and catalog features. The website has many new features including a new custom book builder tool and personalized resource library.
The custom book builder allows instructors to virtually create an outline for a custom textbook that resembles their semester's course syllabus. The custom book tool allows users to interact with course materials on the website like never before. As instructors browse through relevant lessons, they can add individual chapters from off the shelf textbooks to a saved profile that can be submitted to Schoolcraft for a quote. The easy to use and interactive tool guides instructors in constructing a tailored textbook from over 320 courses.
"Many instructors find it challenging to find relevant course materials that cover their broad curricula all included in one text, resulting in students purchasing multiple textbooks," said Pete Heinrich, Senior Account Manager. "However, with our new addition of the custom book builder, instructors can easily visualize the individual topics that are required in their syllabus as one affordable textbook solution."
In addition to the custom book building tool, the website now features an instructor resource center which serves as a one-stop location providing instructors access to all catalogs, interactive demos, downloads, and even a curated list of current grants! By creating an account or logging in, instructors are given unlimited access to view every resource Schoolcraft offers on its website.
For additional information about Schoolcraft Publishing visit http://www.schoolcraftpublishing.com. You can also contact us at 800-837-1255.
About Schoolcraft Publishing: Schoolcraft Publishing is a privately held company, with headquarters in Buffalo Grove, IL. As the educational affiliate of TPC Training Systems, Schoolcraft Publishing benefits from TPC's extensive library of industrial skills training resources to provide training, teaching, and learning materials for industrial education and safety training programs across many industries.