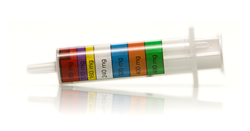 Each year, 140,000 children are harmed and about 7,000 children die needlessly due to dosing errors by medical professionals.
Denver, CO (PRWEB) May 22, 2017
CertaDose™, an innovative syringe that addresses the most common type of medical error in children medication dosing errors launched today on Indiegogo.
CertaDose™ is a fast, accurate and safe way to measure children's medication and helps eliminate dosage errors, which medical experts believe to be the number one killer of children. Emergency Room Doctor Caleb Hernandez developed the CertaDose™ Syringe to provide a simple method to measure and confirm the correct dose for any infant or child.
"Each year, 140,000 children are harmed and about 7,000 children die needlessly due to dosing errors by medical professionals," Dr. Hernandez said. "We want to make it as easy as possible for medical professionals to give patients the correct doses, especially in high-stress emergency situations where a child's life is on the line."
The patented syringe incorporates the right dose, the right concentration and the right route of administration of medication dosing, along with a color-matching technology that creates an easy-to-use system, focused on saving children's lives by curbing critical medication errors.
"CertaDose™ easily works in two steps-- measure and match. Using the industry-standard color-measuring system, CertaDose allows users to quickly measure a child's weight or height to determine the correct amount of medication for each child. Match and fill the CertaDose™ Syringe to the child's color zone. Each color-coded zone on the wall chart defines the pre-calculated medication dosages," Dr. Hernandez added.
According to the American Academy of Pediatrics, 1-out-of-6 doses of medicine given to pediatric patients is wrong, and 31 percent of those incorrect dosing amounts result in harm. At home, 84 percent of parents are administering incorrect dosing amounts to their children.
CertaDose's Indiegogo campaign will raise funds for FDA registration of the acetaminophen oral syringe – enabling CertaDose™ to provide a syringe and wall chart for all parents, caregivers and medical professionals.
For more information on CertaDose™, visit the CertaDose Indiegogo Campaign Page or visit certadose.com.
About CertaDose's Developer
Dr. Caleb Hernandez is a specialist in Emergency Medicine. He is currently an attending physician in the Emergency department for the University of Colorado Health (UC Health). Dr. Hernandez also serves as Medical Director for Anheuser-Busch in Ft. Collins, Colorado, where he oversees the First Responder Service. He has first-hand experience in what can go wrong when a patient is accidentally given the wrong dose of medicine. During an incident that occurred a few years ago, Dr. Hernandez acted quickly to avoid a critical overdose on a child in cardiac arrest – which gave him the inspiration to develop the CertaDose™ syringe.
CertaDose™ is focused on savings kids' lives by reducing medical errors. CertaDose™ is innovating pediatric medication delivery by addressing the most common type of medical error in children – medication-dosing errors.
A clinical trial comparing the current method of determining correct dosages to CertaDose™ shows the amazing potential of this simple solution. In the clinical trial of a highly trained group of medical professionals, critical errors dropped from 37% to zero. The color-coded syringes eliminated critical errors in all groups that participated.
Clinically proven, patented and designed specifically for children's medicine, CertaDose™ incorporates an easy-to-use, color-coded measurement confirmation onto the syringe for pediatric medications.
For more information on keeping children safe from dosing errors, visit http://www.certadose.com.