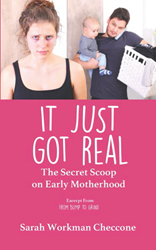 New motherhood means cheesecloth underpants, and dealing with partners who are annoying and endless visitors who only want to see the baby
Amarillo, Texas (PRWEB) May 25, 2017
New motherhood is often portrayed as a blissful time, yet most new mothers know that that image is not real. Reality is still looking pregnant long after birth, wearing cheesecloth underpants, and dealing with annoying partners and the endless stream of visitors who only want to see the baby. Postpartum expert Sarah Checcone shares stories of new mothers who tell you what new motherhood is really like. What new mothers are experiencing is normal, and they are not alone. It Just Got Real, published by Praeclarus Press, reassures new mothers that the struggles they face are normal and more common than they might think.
Sarah Workman Checcone is the founder and Executive Director of Postpartum Society of Florida, a non-profit mom-to-mom organization based in Sarasota, whose mission is to ease the transition from pregnancy to parenthood. She holds a Juris Doctor in Law degree from the University of Miami, and a Bachelor of Fine Arts degree in Musical Theatre from the University of Michigan. Sarah loves to sing, laugh, eat delicious food someone else cooked, be outside, encourage amazing women, and hang out with her husband and four children.
Praeclarus Press is a small press founded by health psychologist, Dr. Kathleen Kendall-Tackett, focusing on women's health. The mission of Praeclarus Press is to publish books that change people's lives. Praeclarus Press is based in Amarillo, Texas.
It Just Got Real is available at Praeclarus Press.com or on Amazon.com.