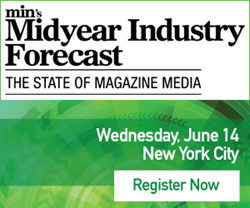 New York, NY (PRWEB) May 22, 2017
The magazine media industry is confronted with unique challenges in today's landscape, and 2017 is shaping up to be a pivotal year for many publishers. With company consolidations, mergers and acquisitions, and fierce competition, industry leaders are looking for key trends, developments, and opportunities to stay ahead.
On Wednesday, June 14th in New York City, top magazine media industry executives will come together for a morning of candid conversation, networking, and problem-solving. Touchpoints will include developments around revenue models, organizational structure, and M&A.
Featured Panelists:
-Andy Clurman, CEO & President, Active Interest Media
-Michael Finnegan, President, Atlantic Media
-Ronan Gardiner, Chief Advertising Officer, Rodale, Inc.
-Gregory Gatto, VP/Publishing Director, Bonnier Corporation
-Daniel McCarthy, CEO, Taunton Press
-David Nussbaum, CEO, America's Test Kitchen
-John Rose, Senior Marketing & Managing Director, Boston Consulting Group (BCG)
Aside from networking with powerful players, the Midyear Forecast will consist of a working breakfast and two panels. The first panel, "Where We Are," will evaluate noticeable developments in 2017. And the second panel, "Where We're Going," will hypothesize and predict the road ahead for magazine media professionals.
To register for min's Midyear Forecast, please visit the website: http://bit.ly/2q629wR.
For questions about this event, please contact Senior Marketing Coordinator Zoe Silverman at zsilverman(at)accessintel(dot)com or 301-354-1662.
Sponsorship opportunities are also available. To inquire, please contact Senior Account Executive Tania Babiuk at tbabiuk(at)accessintel(dot)com or 203-899-8498.
About min:
min is the industry's trusted source on the consumer and b2b magazine business, reaching thousands of media executives through eletters, social media in-person events. For more than 60 years, min has been serving the magazine and media community with unparalleled coverage of this ever-changing industry. For more information, visit min at minonline.com.