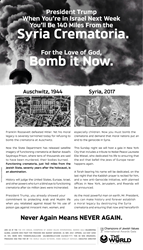 New York, NY (PRWEB) May 19, 2017
The World Values Network (WVN), an organization that aims to advance America's standing through the dissemination of Jewish values in politics, culture, and media, posted a full-page advertisement in WaPo's Friday, May 19th edition publicly challenging President Trump to bomb the functioning Syrian Crematoria. Clearly delineated as an anti-genocide plan, the WVN stresses that this initiative is critical given Syria's relevance and close proximity to the Jewish State.
The advertisement also directly publicized the WVN's upcoming annual Champions of Jewish Values Awards Gala, which will take place this Sunday night, 21 May, 5pm, at Cipriani 42nd St. The event will pay special tribute to Holocaust survivor, renowned author, political activist, and Nobel Peace Laureate, Elie Wiesel, who recently passed away on the 2nd of July 2016.
The advertisement draws close comparison between the crematoria in Auschwitz 1944, and Syria 2017, and along with Wiesel's personal relation to the Holocaust, the WVN urges President Trump to carry out what it sees as an obligatory humanitarian mission.
Discovery President and CEO David Zaslav will be offering a special verbal and video tribute to Mr. Wiesel at the gala. The evening's Keynote Speaker, Elisha Wiesel, will present the Elie Wiesel Award, which will be presented to Derek Black. Black is a former White Nationalist who, through the guidance and support of his Jewish friend, Matthew Stevenson, shifted his mindset to respect all people equally.
In the Jewish religion, the Kaddish (mourner's prayer) is recited for 11 months after a family member's death. The last Kaddish for Elie Wiesel will be said by Elisha during a prayer service at the gala.
The gala will also feature many distinguished guests who, while coming from varying backgrounds and occupations, share a unified dedication and affinity for love towards the Jewish people, and all people in today's world.
President of Rwanda Paul Kagame will be receiving the Dr. Miriam and Sheldon G. Adelson Award for Friendship with the Jewish People, presented by Dr. Mehmet Oz of the Dr. Oz TV Show.
The World Values Network will also honor Israel's Minister of Agriculture Uri Ariel, Israel's Consul General of New York, Dani Dayan, Israel's Permanent Representative to the United Nations, Danny Danon, Elie Wiesel's wife, Marion Wiesel, former Prime Minister of Spain, Jose Maria Aznar, American Hebrew Academy CEO Glenn Drew, and WVN Chairman Michael Fromm. Master of ceremonies will be Rabbi Shmuley Boteach.
The World Values Network has emerged as a seminal organization, whose relentless commitment to promoting Jewish values and advocating for a better future is deeply impactful. It has proven to be uniquely effective in carrying out its mission to instill universal Jewish values in modern politics and culture, as well as defend the State of Israel to the mainstream and international media. In conjunction with world leaders of every walk, it furthers these causes to worldwide audiences through media campaigns, debates, and lectures at venues across the globe.
Media interested in attending the gala must pre-register with Ari Zoldan ari@arizoldan.com or call 212-634-7777. For additional details please visit http://www.thisworldgala.com.