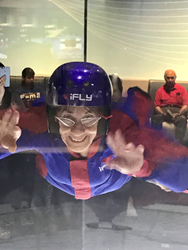 "Our mission is 'to optimize health and well-being by passionately promoting a Vibrant Life® filled with joyful experiences, meaningful endeavors, and abundant opportunities,'" said Collette-Valenitne-Gray for ISL.
Carlsbad, CA (PRWEB) May 19, 2017
Integral Senior Living (ISL), a premier senior living management company, created a program that adds vibrancy to resident life. Throughout the 60 communities it manages, residents take part in Vibrant Life®, an innovative program designed to enhance and enrich residents' lives with well-rounded and meaningful experiences.
Recently a resident at ISL community Shavano Park Senior Living took part in a lifelong dream. A component of Shavano Park's Vibrant Life program is 'Livin' the Dream,' which gives residents an opportunity to try something they've always wanted to do. Shavano Park resident Dorothy Williams took to indoor skydiving, as her dream became a reality.
"Our mission is 'to optimize health and well-being by passionately promoting a Vibrant Life® filled with joyful experiences, meaningful endeavors, and abundant opportunities so that our residents connect with family, friends and the local community.' Mrs. Williams certainly helped us accomplish our goal," said Collette Valentine-Gray, CEO/COO of Integral Senior Living.
With the help of her granddaughter, 92-year-old Dorothy Williams was ready to fly. She slipped into her royal blue and red flight suit, zipping it all the way up to her neck before donning a shiny blue helmet – her silver hair peeking out of the bottom. It was going to be a good day to fly.
Mrs. Williams was a little scared but also excited. She traded jokes with her instructor as she learned the safety rules and basics of indoor skydiving at iFly. Mrs. Williams has been a resident at Shavano Park Senior Living for about a year where dementia and stage 4 cancer haven't slowed her down.
"She's always on the go, she has a lot of friends," said Shavano Park's memory care nurse, Ashley Shipman. "Almost every day she's going to lunch with someone. She has been able to still have a very full social life here."
For this special event, Mrs. Williams' son, Brian attended and her daughter-in-law and granddaughter joined in by taking the class along with her. "I think it eased her fears to have them along," Ms. Shipman added.
The three generations of Williams's women sat through the general instruction for flying in the vertical air tube. Each dive lasts just a couple of minutes. Mrs. Williams flew twice, having her daughter-in-law and her granddaughter fly with her made it that much better.
"I think it was good that her family was doing it with her, she was comfortable, and she had a huge smile on her face the whole time," adds Van Orman.
Mrs. Williams waving at everyone, smiling and joking around while other residents from Shavano Park's memory care sat along and watched in awe. Today Dorothy can be seen around the community sporting her iFly t-shirt from time to time.
About ISL
Integral Senior Living headquartered in Carlsbad, CA, manages a progressive selection of senior residences to meet the growing needs of today's aging population. It currently manages 60 independent, assisted living and memory care properties throughout, Arizona, California, Colorado, Florida, Georgia, Indiana, Kansas, Kentucky, Michigan, Missouri, Nevada, Oklahoma, Oregon, South Carolina, Tennessee, Texas, Utah and Washington. It is ranked the 17th largest senior living provider in the U.S. according to Senior Housing News. ISL is founded on a care philosophy that fosters dignity and respect for residents and promotes their independence and individuality. The dedicated staff at each community is trained to maintain the highest standards of senior care services. For more information about ISL, visit Integral Senior Living's website, blog and Facebook page.