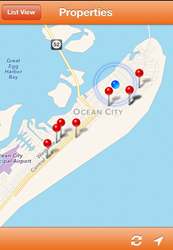 Our app is a simple cost effective way for vacation rental managers to reach customers on their mobile devices
Ocean City, New Jersey (PRWEB) May 19, 2017
RealTimeRental announced today upgrades to their IOS app which is designed to help vacation rental managers display their rental inventory to potential rental guests. App upgrades include an improved GPS mapping feature and search function.
"Our app is a simple cost effective way for vacation rental managers to reach customers on their mobile devices," said Joe Testa, Co-Founder RealTimeRental.
Rental Information such as property photos, amenities, rates and availability are seamlessly populated into the app directly from RealTimeRental Software. There is no need for vacation rental managers to update property information and availability in two places. App users can browse through rental properties and contact the office to secure the booking from directly within the app.
In addition to searching by price and availability, the app upgrades include an improved search function with the ability to filter property results based on number of bedrooms, property type, and certain amenities such as central air, wifi, and pet friendly.
"The app is customized for each client and uses the logo and color scheme of each vacation rental office. Our goal is for vacation rental managers to have a tool that makes it simple for their rental guests to plan and research their vacation on their phones," said Testa.
The app upgrades include an enhanced GPS mapping feature. Once the app determines the user's location, it will display vacation rentals located in the area. The GPS mapping will drop pins for each vacation rental property which the user can click to view more details or to receive step by step directions to the property. This is a useful tool for travelers who wish to vacation in a specific part of town, or want to visit multiple properties before booking their trip.
The app is currently available for IOS devices. For more information about how Vacation rental managers are using the RealTimeRental app please visit http://www.RealTimeRental.com .
About RealTimeRental.com - RealTimeRental.com is the premier vacation rental software solution for 200+ rental offices in the United States, Caribbean, Mexico, and Costa Rica. As the first web based vacation rental system on the market in the year 2000, RealTimeRental has consistently provided a comprehensive reservation and accounting system for the past 16 years. As a cloud based application, RealTimeRental vacation rental software clients have the peace of mind that their reservation management system can be accessed 24/7 via the cloud. Additionally, RealTimeRental offers a fully integrated trust accounting package and marketing options for property managers, including a mobile app and a proprietary distribution portal, http://www.rentalretreat.com