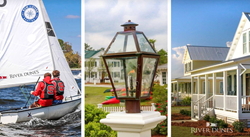 Memorial Day Events at the Best Boating Community of the Year
Wilmington, North Carolina (PRWEB) May 20, 2017
Avid sailors and boating enthusiasts looking for the ideal place to live have the opportunity to spend an exhilarating Memorial Day Weekend on the Inner Banks of North Carolina at the award winning boating community of River Dunes. For those who don't know, Grace Harbor Marina, the 28 acre River Dunes marina, is considered one of the top 10 "Best All-Around Marinas in the World" based on a 2015 survey by Marinas(dot)com. Marinalife magazine rated River Dunes as the "2015 Best Southern Destination." River Dunes is more than a protected marina.
Here folks will find a friendly boating community who takes pride in coastal neighborhoods that complement the region. Traditional coastal architectural designs and indigenous landscaping sit upon 1,345 acres along the serene Pamlico Sound featuring an impressive 14 miles of shoreline. Here the Intracoastal Waterway (ICW) meets the Pamlico Sound and Neuse River just beyond the 1,100 foot channel allowing boaters a direct path for exploring nearby coastal towns and the waterways leading to the Atlantic Ocean.
What's planned for the upcoming River Dunes Memorial Day Discovery Event?
Friday night begins with a Sunset Wine & Cheese Cruise aboard the esteemed Miss Grace, a classic restored 1948 Brady Lewis. After a relaxing tour of the River Dunes marina, guests will enjoy a mouth-watering seafood dinner at the nationally acclaimed Harbor Club. Steamed clams, ceviche and regional favorites will be featured.
Saturday morning starts with coffee and a continental breakfast followed by an informal preview of the newest property options in Boathouse Row, a Southern Living Inspired Neighborhood. A private tour of the community will be arranged so visitors can see the available home for sales that make up this distinctive development as well as a boat ride Saturday or Sunday to explore this meticulously preserved region by water.
On Saturday afternoon, guests will experience the reason why River Dunes is the ultimate boating community at the annual "Raft-Up" where property owners and Harbor Club members kick off the summer season. Water festivities fill the day complimented with awesome food and cool refreshing drinks. For relaxing, the pool will be open along with the poolside grill which will be offering specials throughout the day.
To round out the day, Saturday night there will be a Cabana Casual party for guests featuring exceptional food and live music. The menu for this poolside festivity will include fresh mahi, steaks and chicken grilled to perfection. Relaxing with live music is a great way to end this action packed day at River Dunes.
On Sunday, members and guests are invited to an awesome "beach party" at The Harborside Performing Arts Pavilion. This beautiful venue will feature one of the most popular beach bands in North Carolina, The Entertainers who will rock the day away. Add amazing culinary creations and ice cold drinks, and the day is complete! Enjoy barbecue ribs, grilled corn or sample the "freshest of fresh" seafood taco bar. "Strut your stuff" on the dance floor or just sit back and imagine living the spectacular lifestyle offered at River Dunes. It's no surprise folks never want to leave, and they don't have to. This is the perfect time to explore River Dunes and see some of the finest Oriental NC waterfront homes for sale off Pamlico Sound, the largest protected inland waterway between Florida and the Chesapeake Bay.
While enjoying the Memorial Day Discovery Weekend, visitors will have a sneak preview of the newest neighborhood at River Dunes, Boathouse Row. The marina-side cottages feature open floor plans for entertaining, spacious porches, Master Bedroom and Bath on the lower level with guest suites on the second floor.
There is a highly active social life at River Dunes. Sharing drinks with friends at 'Docktail Parties' at the marina, exploring hiking and biking trails to rejuvenate the soul, paddling the backwaters or setting sail to enjoy a captivating sunset fill the days of homeowners here.
Grace Harbor Marina is the focal point of the boating community. It is home to over 100 slips capable of docking vessels up to 150 feet. A total of 400 boat slips are planned. Boating enthusiasts appreciate the exquisitely designed hardwood IPE floating docks, a 500' Hi-Speed fueling dock and stellar onshore amenities. Sailing vessels, powerboats and trawlers reflect the passion for living at this waterfront playground.
The marina is complimented by the prestigious two story Harbor Club at the heart of River Dunes. The 11,500-square foot Harbor Club offers residents and guests both fine and casual regional cuisine; a pool with private cabanas and poolside bar; hot tubs nestled fireside; a fitness facility for staying healthy; spa services for pampering; and gourmet Provisions at the new Village Center for everyday conveniences.
Driving through this coastal development, home shoppers can admire the wide variety of housing options offered at River Dunes ranging from Cape Cod style cottages to sprawling waterfront estates that adorn the shoreline. Each property is built under the supervision of the River Dunes Master Builder Program to insure consistency with existing architectural styles and guidelines while preserving the natural setting that embraces the stunning homes built here.
River Dunes has received national accolades for its superb architecture, lavish landscaping and go green philosophy. There are 650 homes planned ranging from 1,600 to 4,000+ square feet and lots are available from 1/10 of an acre to 3+ acres. Prices range from the mid $400K's to over a million for exquisite waterfront estates, with bunkies starting in the low 200's. Pricing is very reasonable for custom construction building sites that are available starting at 98k. Building the perfect dream home is a breeze at River Dunes with several experienced builders to choose from. Here are the highly acclaimed experienced builders who build at River Dunes:
Ark Development of North Carolina
M.E. Maher Construction
Watermark Homes of NC
Selected as a "Southern Living Inspired Community" by Southern Living magazine, these properties offer six cottage style floor plans ranging from 2300 to 2500 square feet. The location is superb, adjacent to Grace Harbor, the pool, tennis courts and within walking distance of the Harbor Village, homes here are selling fast. Bunkies are offered starting in the 200K's and have three floor plans to choose from and cottages start in the 400K's. In addition to Boathouse Row, River Dunes features eight other distinctively designed coastal neighborhoods to choose from which include; Chapel Square, Ballast Point, Summer Place, Broadwaters, Oyster Point, The Channel, The Row and Preservation.
Memorial Day is rapidly approaching and the perfect time to shop for Oriental NC waterfront homes for sale at River Dunes. Guest accommodations at the River Dunes marina may be available in the impeccably furnished 1 to 3 bedroom cottages surrounded by natural settings overlooking Grace Harbor. Visitors will enjoy all the festivities of the weekend including Harbor Club privileges as well as bicycle and kayak rentals.
Cottages are limited, so call River Dunes at 252-249-0253 now today to reserve a spot for a fun filled weekend.
About Real Estate Scorecard:
Real Estate Scorecard writes unbiased real estate reviews providing in-depth information about popular gated communities in Florida, Georgia, the Carolinas and Tennessee and Central America, all in an effort to help people discover where to retire in the South.
Website: http://realestatescorecard.com