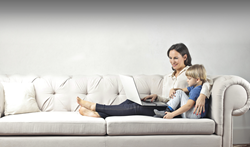 New York, NY (PRWEB) May 22, 2017
Shieldly™ is a proven cybersecurity service that protects personal computers from viruses, malware, spyware, ransomware and other destructive online threats.
Unlike off-the-shelf software for anti-virus, Shieldly consists of multiple anti-virus, anti-malware, anti-spyware, and anti-rootkit defense-systems that continually work in harmony in a PC's background to eradicate threats. This powerful service scans for the newest and most dangerous threats automatically, so consumers are protected without having to click on prompts, decide what should be updated, or worry about the latest cyber threat reported on the news.
Another major benefit is that Shieldly custom protects each PC according to each user's programs and operations. The service not only provides a super-defense shield but also unlimited cloud backup, proactive monitoring, OS and application updates; all of which is monitored and managed by real engineers and a highly-trained cybersecurity team.
This unique combination of advanced web filtering and human-powered monitoring by cybersecurity professionals protects consumers from downloading malware, hacking attempts, and infected advertising. Personal computers are also protected from fake and infected websites. The fear of wandering into a "bad" Internet neighborhood – is no longer an issue.
In 2016, the FBI reported an alarming increase in ransomware attacks on large and small businesses, government and hospitals, noting that ransomware, is "an insidious type of malware that encrypts, or locks, valuable digital files and demands a ransom to release them."
The agency noted that, "home computers are just as susceptible to ransomware, and the loss of access to personal and often irreplaceable items—including family photos, videos, and other data—can be devastating for individuals as well." (http://www.fbi.gov/news/stories/incidents-of-ransomware-on-the-rise)
Shieldly protects consumer personal computers from being locked and held for ransom. The constantly updated service stops ransomware with proprietary next-gen technology that works proactively to shield files. It's a comprehensive defense system that protects consumers from tomorrow's ransomware attacks today.
Daniel Kalai, President of Shieldly, states, "After years of perfecting cybersecurity platforms for businesses, we saw a tremendous need to help individuals, from Millennials to Seniors, to have an affordable complete computer security system. Now, individuals, families and small businesses can have uninterrupted use of their personal computers without fear of hackers and cybercriminals."
Kalai reports that consumers and small businesses can try Shieldly for free and stop the service at any time. In addition, users regularly receive reports on the effectiveness of the Shieldly defense system in blocking and eradicating attacks, updating Windows and other applications, and securely backing up data on a protected cloud platform.
To learn more about Shieldly, visit the website at https://shield.ly. The site also offers quick registration for a "free 14-day trial" as well as the opportunity to easily sign-up for the service, which only takes a few minutes. In fact, as soon as consumers sign-up for the service, Shieldly begins to work automatically. There's no longer a need for consumers to be involved. Many consumers report that after installation, their computers seem to have undergone a tune-up and zip along like new.
For media inquiries and interviews, contact:
Paul Hendley
ABI, Inc.
phendley(at)abipr(dot)com
(646)740-1024