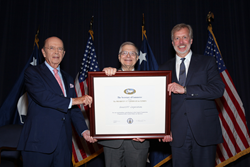 "Receiving the President's E Award for Exports validates all of the hard work we've done at ServerLIFT. It feels great knowing you've contributed to the economic growth in this country." - Ray Zuckerman, ServerLIFT CEO
WASHINGTON DC (PRWEB) May 24, 2017
ServerLIFT Corporation was one of 16 companies to receive the historical President's E Award for Exports on May 22nd, 2017 in Washington DC. This award gives recognition and highlights the achievements for businesses involved in exporting around the world. Created during World War II, the award hopes to continually recognize and promote excellent export companies across the US.
The award focuses on four main components: measurable growth, innovative strategies that results in an increase in export sales, approaches that could continuously be used in the market, and finally the ability to have a broad impact within the company's sector. In order to receive this award, all four qualifications must be met, and ServerLIFT was able reach all of them.
ServerLIFT specializes in heavy server & IT equipment handling solutions, making it easy for one person to install servers weighing up to 1,000 lbs., in a matter of minutes.
ServerLIFT is the only lift that is certified for data centers and aims to increase the speed of unpacking, installing or migrating servers by 200%, or more. The company services a number of elite clients including big names such as IBM, Netflix, Facebook, Coca Cola, and American Express, along with education and government institutions. This award highlights ServerLIFT's diligence to keep workers safe and ease the burden of moving large data center equipment.
ServerLIFT can add this award to their collection, including the top 5000 Fastest Growing Companies in America by Inc. 5000 and one of Fortune Magazine's 100 fastest-growing inner city businesses in the United States. This is not ServerLIFT's first trip the White House, having been invited in 2012 to talk about exports with the Ex-Im Bank.