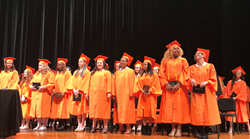 Each of our recent graduates has their own unique story on how online learning has allowed them to succeed while preparing them for the future
(PRWEB) May 23, 2017
As online learning continues to grow in popularity among parents seeking an education alternative that meets their child's individual needs, families from across Michigan gathered together this past weekend at the Charlotte Performing Arts Center to celebrate the graduation of their children from Great Lakes Cyber Academy, a tuition-free, public online school serving students in grades 6-12.
Many of the recent graduates enrolled at Great Lakes Cyber Academy to capitalize on the school's commitment to personalized learning, and to take advantage of its flexible schedule options. Because of this flexibility, students, such as Ivan Mokhav, can chase their personal dreams while receiving a high-quality education. Since the age of five, Mokhav has dreamt of skating competitively. After switching to Great Lakes Cyber Academy, he was able to spend the time he needed to practice and compete in six U.S. Figure Skating Championships while never falling behind on his classwork.
"Each of our recent graduates has their own unique story on how online learning has allowed them to succeed while preparing them for the future," said Heather Ballien, principal of Great Lakes Cyber Academy. "As our students attend college or enter the workforce, in addition to having received first-class instruction from some of the brightest minds in Michigan, they have benefited from learning critical skills, such as time and project management, that will be essential to their future success."
Joining Mokhav at this year's graduation are 131 fellow graduates who are eager to begin the next phase of their education on college campuses across the country. Universities and colleges welcoming Great Lakes Cyber Academy grads this fall include: Michigan State University, University of Michigan, Western Michigan University, Portland State University, and Wisconsin Lutheran School.
Online education appeals to all types of students and families. According to a 2016 third-party survey of Connections Academy online school parents, the top reasons for choosing virtual school include the desire for a more flexible schedule, wanting a change from their current school situation, and wanting a safe learning environment.
Enrollment is open for the 2017-18 school year and information sessions are being held across the state. To register for a free information session and enroll for school in the fall, visit http://www.GreatLakesCyberAcademy.
About Great Lakes Cyber Academy
Great Lakes Cyber Academy (GLCA) is a tuition-free statewide online charter school serving students in grades 6-12 from across Michigan. The combination of Michigan-certified teachers, a proven curriculum, engaging electives, technology tools, and community experiences creates a supportive and successful online learning opportunity for families and students who want an individualized approach to education. The unique virtual school offers students in grades 9-12 greater flexibility through a variety of pacing options including a traditional school year option, a year-long school year option and an accelerated option. The school is authorized by The Governor John Engler Center for Charter Schools at Central Michigan University. For more information, call 855-GO4-GLCA (855-464-4522) or visit http://www.GreatLakesCyberAcademy.com.