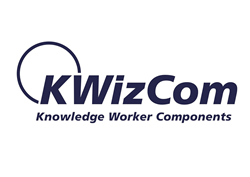 Toronto, ON (PRWEB) May 20, 2017
KWizCom Corporation, a leading developer of SharePoint Forms & Mobile Solution, as well as numerous other turn-key SharePoint add-ons and apps for Office 365, announced they are a Platinum Sponsor of the European Collaboration Summit, taking place at the Hotel Antunović in Zagreb, Croatia on May 29-31, 2017.
The European Collaboration Summit (ECS) is the largest community-driven conference focusing on Microsoft's products Office 365, Azure, SharePoint, Exchange, Skype, and Project in 2017 in Europe. It is a two-day community event, filled with vast variety of presentations during which world-leading experts and speakers will deliver a range of "what is new" and "best practices" sessions regarding the above-mentioned technologies.
In addition to exhibiting, KWizCom will be participating in a speaking session, which will be presented by Nimrod Geva, the Director of Product Management at KWizCom. In his session entitled "Who Said You Have to Be a Power-User to Create Dynamic Forms & Workflows in SharePoint/O365" Nimrod will demonstrate how non-technical business users can quickly create powerful forms by using KWizCom Forms - a 100% SharePoint-native forms solution for SharePoint on-premises and Office 365. Nimrod will also illustrate how business end-users can implement their business processes the easiest way, without complex workflow design tools.
KWizCom wholeheartedly invites the attendees of the conference to visit the company's booth where they will have the opportunity to play fun and simple Forms Superhero trivia games while familiarizing themselves with groundbreaking add-ons and solutions and getting the opportunity to win gift cards and other prizes.
For more details on the conference, please visit: http://www.collaborationsummit.rocks/
About KWizCom
Since 2005, KWizCom has provided innovative solutions and services to make SharePoint even better for over 7,000 companies worldwide. KWizCom is a leading provider of SharePoint Forms, Mobile, Wiki solutions, and over 80 other add-ons for SharePoint on-premises and apps for Office 365. KWizCom software is available to federal, state and local government agencies through GSA schedule.
KWizCom is a Gold Certified Microsoft Partner is headquartered in Toronto, Canada to find out more about the company visit http://www.kwizcom.com.
Follow KWizCom on Twitter @KWizCom
Join KWizCom on LinkedIn http://www.linkedin.com/company/kwizcom
Become a fan of KWizCom on Facebook: https://www.facebook.com/KWizCom
Contact a KWizCom Account Specialist at +1-905-370-0333/+1-855-KWIZCOM or info(at)kwizcom(dot)com