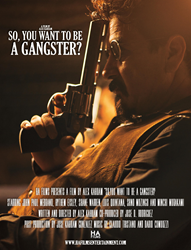 "Without the cast and crew the director is nothing, it's all about teamwork"
Los Angeles, CA (PRWEB) May 22, 2017
Mexico City born Alex Kahuam is proving himself in Hollywood. With his first feature film, "So You Want to be a Gangster?" gaining distribution, it is set to hit online streaming services including Amazon Prime in the coming months. At the young age of 21 when he started production in 2013, Alex was recognized by his peers as an extremely creative mind and is a versatile and easy going Director. Alex believes in team work. "Without the cast and crew the director is nothing, it's all about teamwork," he says.
"The film was fun and a challenge to make. There were shootouts, fight scenes, long takes with lots of hard work from all the cast and crew". The Director likes to keep it real and he chooses special effects on set rather than in post-production. "I think it's real and the audience will be more intrigued, and they will be in the film rather than if they see something fake that is not real".
Kahuam was able to realize the film thanks to a great team of stunt men and pyro technicians that worked on set. No one got hurt during the production and at the end it all worked out. "It all started with a short film and then it became a feature film." The short version of the feature went to the Cannes film festival in 2013. After the success and impact of this short, Kahuam was able to get funds from private investors in Mexico City to make the feature.
Aside from this film, Alex currently has three other features in development. He has also directed music videos for multiple artists including Salvador Santana, the son of the legendary Carlos Santana. And he is currently shooting commercials as well.
For his other projects Alex wanted to change genre from "So, you want to be a gangster?" His two other films have serious social matters with an impact, rather than another crime action movie. There is also a horror film Alex is working on finishing the script for to be shot in the next 2 months. Kahuam's philosophy is, "If you as a director are able to direct any movie, any genre, you are a good Director; it shouldn't be an issue for you".