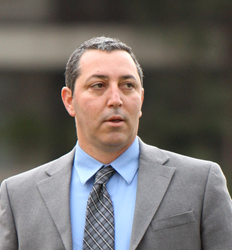 I spent a career investigating crime, only to join Virtual Guard, where our objective is to prevent crime. But the challenges are similar: management of data, guiding personnel in making quick decisions, and leading improvement of software development.
Los Angeles, CA (PRWEB) May 22, 2017
In a midst of a wave of break-ins and burglaries here and here in such diverse industries as car dealerships, construction sites and scrape yards, and spanning across the US & Canada, Virtual Guard, a video monitoring company, recruited a seasoned police commander to run the security operation of the company. Retired police Lt Colonel Avishay Bar-Tal is a strategic addition to senior management designed to greatly enhance the company's monitoring capability, drawn from his distinguished service of over two decades in various investigative and intelligence aspects of police work.
Following a military tenure as a combat officer in the Israeli Defense Force, Mr. Bar-Tal embarked on a 25 year career in the Israeli National Police in both investigation and intelligence efforts, culminating in a five-year stint as Israeli Police liaison to the US and Mexico. His joining Virtual Guard represents Mr. Bar-Tal's first civilian position following his extensive police service.
"I spent a career investigating crime, only to join Virtual Guard, where our key objective is to prevent crime" chuckles Avishay Bar-Tal. "The challenges we have faced in both arenas, however, are quite similar: management of enormous amount of data, guiding personnel in making quick decisions, and leading a constant improvement of software development. We are currently undertaking an assimilation of police standards and procedures as they relate to security operations and our control center"
"Taking the initiative to seek out a recruit of this caliber demonstrates our forward looking agenda and the continuous efforts to improve service to expanding clientele" emphasize Owen Dvir, president of Virtual Guard. "As we strive to utilize ever-evolving new technology as applied to perimeter security, higher standards of operations and more efficient crime prevention, greatly enhances our capability to deliver protection to our clients' facilities at one quarter of a price of physical guards."
Virtual Guard is a leading developer and integrator of cutting edge technology, combined with experienced security professionals, and designed to cost-effectively prevent intruders from breaching the perimeter of the secured area. The company's founder and CEO, Steve Devir, cut his teeth on security matter decades ago when he served in the Israeli Defense Force. The technology is based, in part, on national systems used by the Department of Defense, the Department of Homeland Security, and verified by leading national testing laboratories. The system used has been tested rigorously in all seasons and all visual conditions in order to ensure that it is active at all times.
Virtual Guard solutions are currently being used by auto dealerships, hospitals, museums, scrap yards, construction sites, government facilities, warehouses, estate protection, commercial buildings, and industrial or manufacturing sites. National challenges such as the often-discussed protection from on the southern border are next in the company's ambitions.
About Virtual Guard:
Virtual Guard: Preventing Crime Before it Happens.
Virtual Guard national headquarters, 4645 Van Nuys Blvd. Sherman Oaks, CA 91403. Phone: (888) 435-3533
Owen Dvir, President
West Cost Regional Office
Jude Hen, Security Consultant, phone: (310) 466-9330, jude(at)virtualguard(dot)com
East Coast Regional Office
Jim Happel, Security Consultant, phone: (954) 914-6291, jim(at)virtualguard(dot)com
http://www.virtualguard.com